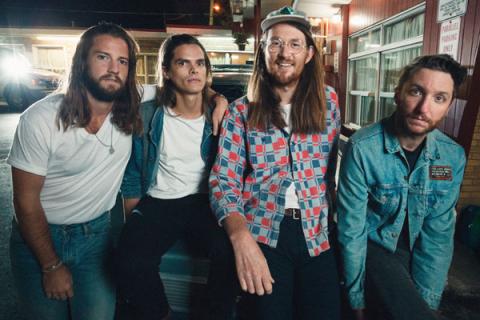 Toronto indie folk act The Wooden Sky will be helping refugees this week when they perform three shows as part of their 7th annual holiday revue.
Formed in 2007, The Wooden Sky are a classic "band's band." Their membership has feature people who've also played with Timber Timbre, Ohbijou and The Mars Volta in the past. Their If I Don't Come Home You'll Know I Was Gone album was recorded with Howard Bilerman (Arcade Fire, Godspeed You! Black Emperor, Basia Bulat) and was nominated for the Polaris Music Prize in 2010.
The band, which will be playing in Ottawa at St. Albans Church on Dec. 12 and at 918 Bathurst for two nights in Toronto on Dec. 14 and 15, will be donating proceeds from these gigs to Ottawa's Carty House and Toronto's Romero House, respectively.
Founded in 2001, Carty House is a communal residence in Ottawa that provides transitional housing for female refugees. While in the house residents are provided with a private room, full board as well as things like skill-building workshops, job search assistance and ESL tutoring.
Romero House is a community consisting of four houses and a community centre in the west end of Toronto that was founded in 1992. At Romero House refugee families live with interns that help them adapt to Canadian living. Over the years Romero House has helped more than 4,500 individuals and families.
Casey Mecija (Ohbijou) will be part of the Dec. 14 show and Simone Schmidt (Fiver, Highest Order, 100 Dollars) on Dec. 15. Tickets for the Dec. 15 show are sold out, though there are still some available for Dec. 14
Samaritanmag spoke to Wooden Sky singer Gavin Gardiner about why he's supporting these causes and what people can expect at the shows.
What is the Wooden Sky Holiday Revue?
It's an annual fundraiser that we started about seven years ago. We kind of started it because it was a chance to play different spaces. We still tour clubs and bars a lot. So this was an opportunity to show a different side of the band, which is pretty fun. Also, it seems to always coincide with the eve of finishing a new record. So it's an opportunity to play some new songs. And it's gotten to the point where we have some familiar contributors over the years, so we've got a horn section, some string players. It's fun just to have a community event and also have some of the musicians involved that make up part of our musical community as well.
Proceeds from your Ottawa show will go towards Carty House. How did you get connected with them?
I met Maureen (Killoran) — she's the one who started Carty House — through my girlfriend's family. And I met a few of the people they've helped and they work with and it just seemed that the work that they're doing important. And it's nice for us. We're not gonna make a ton of money for them, but it's nice to raise some awareness. The group that we're fundraising for in Toronto is called Romero House and it's a similar idea to Carty House except it's not for females only. We live around the corner from them and we've gotten fairly involved in the last two years in just simple things like. Sarah (Kreskey, partner) works in the clothing boutique to help sort clothing donations when they come in, drive kids to school if they need a ride — just getting involved in the neighbourhood.
When you humanize the situation, when you hear about refugee claimants and the controversy surrounding them on the news, it just changes how you feel when you come face to face with those people. I love it and it totally changes my outlook on things.
You mentioned that Romero House is close to you. How important is it to you to think local, to help around neighbourhood?
I think it's becoming more and more important to me as I get older. And I'm also realizing how much you get back from it, too. Just seeing the kids on the street makes the whole neighbourhood feel smaller and like a community as opposed to a bunch of houses. When I first moved to Toronto from a little town in Manitoba, it desperately felt like I was trying to find that. It's super-important to me.
The common thread between both Carty and Romero House is they support refugees. Why is this cause important to you?
Well it's been a constant topic of discuss at the dinner table with the family, which is part of the reason that spurred us on to doing that. Also, when we were on tour in Europe last year it was at the height of some sort of exodus from Syria across Europe and just seeing people walking down the side of the highway — we were driving through France while a lot of that stuff was happening — and you'd see people trying to get to England, breaking into the Tunnel, to see that kind of resolve to live and survive and provide for your family was very inspiring, so coming back it seemed like a good opportunity to help. Also, seeing how hard the people who work here at Romero House, from the interns to the directors, how involved they are with the families, it just seemed like an opportunity to really be able to connect with the people you're trying to help. Not that donating to a bigger cause isn't important, but just seeing the work that you're supporting is also a big part of it.
This will be the seventh year of doing this. How much money have you raised so far?
In seven years it's been about $15,000. In the first couple years we did about $2,000 per show, but in the last couple years we really started doing it all ourselves, which meant we could actually have donations from different breweries and sell the beer and raise money that way and that increased our ability to fundraise by quite a lot.
What can people attending expect from these shows?
Well we're having two special guests each night, one of which is our own Edwin Huizinga, who's an amazing violinist, and one of the nights that's he's in Toronto he's performing a piece that he and a dancer put together for one of the First Thursdays here at the AGO (Art Gallery of Ontario). We're also going to be performing with a string quartet, which is the first time we'll have ever done that, so that'll be exciting. We'll be playing songs from our new record, so that'll be cool, too. Also, there'll be some tarot card readers.
Nike