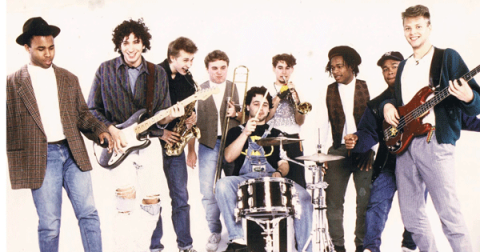 When long-dormant bands reform, they are typically motivated by cash or nostalgia, not altruism. But when righteous reggae combo Fujahtive ascends the stage at Toronto's Tattoo Queen West on Nov. 7 for their first performance together in almost a decade, charitable fundraising is the objective.
The JUNO-nominated Fujahtive hopes to raise $10,000 for Dr. Roz's Healing Place, a Toronto-based non-profit providing emergency crisis care to women, children and youth emerging from abusive relationships.
In operation since 1981 and headed by the indefatigable Dr. Roz Roach, "the first black woman in Canada to build a centre for abused women and children," Dr. Roz's Healing Place "works towards the eradication of violence against women and their children locally, nationally and globally," according to its website. 
"Through the delivery of innovative programs and services, Dr. Roz's Healing Place helps empower survivors of violence to make positive changes" through emergency housing, support services and referrals, as well as various programs including counselling, job training, life skills development, creative and educational activities.
"People have been asking us for ages when we are going to play again," Fujahtive guitarist Anthony Goldstein tells Samaritanmag, confirming that the band's last gig was in 2006. The core members — "the ones active when we toured the most in the early-to-mid 1990s" — have remained in touch.
Goldstein continues: "I am at a point in my life where anything I do must be rooted in something positive. I had been playing at a charity golf tournament and this woman got up to speak on behalf of Dr. Roz's Healing Place. I was so impressed that I spoke to her and mentioned we were pondering a reunion but wanted it to have a charitable focus. It went from there.
"I ended up meeting the real Dr. Roz and was blown away. She built up this amazing organization without any government funding. Now the government does fund it because it's so impressive. So this was a no-brainer for us."
Also on the bill Nov. 7 is Christopher Charles and the Chronicles (roots rock plus vintage and dub-influenced reggae from the 70s and 80s). Tickets are $20 via fujahtive@gmail.com and ticket stubs from the event presented at Indian restaurant (and event sponsor) Pukka will receive a $20 discount off their bill.
Goldstein confirms that 300 advance tickets have been reserved, putting Fujahtive halfway to its fundraising goal with three weeks to spare. "And we are expecting a huge rush at the door. Last time we did something similar in 2004, they were turning people away. So I guess we better bring it," he laughs.
Asked whether this concert marks the permanent reboot of the band, Goldstein demurs. "It's hard to organize the schedules of eight people, especially in a band that has always been run as a democracy. If one guy can't do it then nobody wants to do it. My guess is we'll be able to organize two shows a year, every November for Dr. Roz and maybe something in summer for a different charity. That would be an ideal schedule for us."
Jordan Ανδρικά • Summer SALE έως -50%