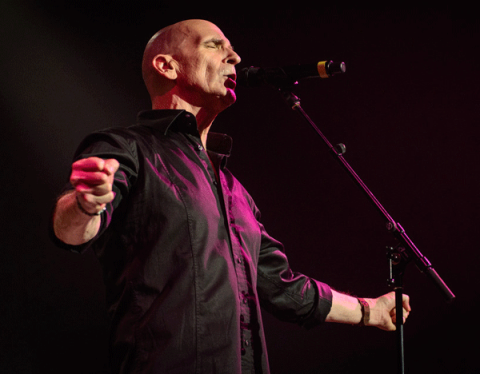 Saga frontman Michael Sadler has a personal connection to the Philippines and has quickly rounded up his friends and colleagues to put on T.O. Rock Aid, Dec. 12 at Toronto's Phoenix Concert Theatre, to raise money and awareness for the hundreds of thousands of people impacted by last month's Typhoon Haiyan.
"My wife Gwen is Filipino. She was born there and lived there until she was about 17 or 18. She still has her whole immediate family there," Sadler tells Samaritanmag.
T.O. Rock Aid will feature Saga, Carl Dixon (Coney Hatch frontman), Sean Kelly (guitarist and author of Metal On Ice) and The Carpet Frogs (Burton Cummings). Any other notable musicians who would like to participate can email info@tcartistmanagement.com.
"It's a night of great music for a great cause, and the beauty of it is anything could happen. We could find really unlikely people onstage jamming together," says Sadler, whose hits include "Wind Him Up," "On The Loose" and "The Flyer."
Tickets are $20 at the door. Doors open at 7 p.m.; show starts at 8 p.m.
"All of the money goes directly where it's supposed to go and I chose Doctors Without Borders (Medecin San Frontieres) for that reason," says Sadler. "There is going to be a lot of sickness associated with this disaster and they are going to need medical help. They are going to need doctors on the ground, and Doctors Without Borders already has some there now."
Typhoon Haiyan — also known as Yolanda — wiped out coastal communities, and killed 5670 people, injured 26,233, and rendered many thousands homeless, without power, food or clean drinking water, according to the National Risk Reduction and Management Council. 1761 people are still missing.
"As soon as it happened, I thought about what I could do. And then the obvious thing hit me — do a show. I realized Saga was going to be in the area for two shows, one in Barrie and London, in mid-December, so it would be easy just to gear up for another show," says Sadler, who lives in California, and who rejoined the progressive rock legends in 2012 after a five-year hiatus.
"And it's the right thing to do, regardless of any personal connection. But sometimes that personal connection is the big push that gets you to do something above and beyond. And it just made sense because the band [Jim Gilmour, Jim and Ian Crichton and Mike Thorne] is all going to be in the same place at the same time.
"In the past when something like this has gone down you're not always in the position where you can pull something together in time to be effective. Doing it six or eight months later doesn't have the same impact."
Saga manager Todd Farhood quickly booked The Phoenix and Sadler contacted old pal Jeff Jones, formerly of Red Rider and currently a member of The Carpet Frogs, which will act as the host band for Kelly, Dixon and any one else who wants to jam. The night will be capped off with a full set by Saga. There is also going to be a mini-reunion of Sadler's pre-Saga band Truck.
"I am raising funds, yes, and the more we get the better, but we also want to raise awareness that this is an ongoing disaster," says Sadler. "It's actually far worse for many thousands of people now than it was it the first couple of days after the typhoon hit, because of the spread of disease due to the lack of food and clean water. People sometimes forget about that once the news cameras have moved on to something else."
Nike SB