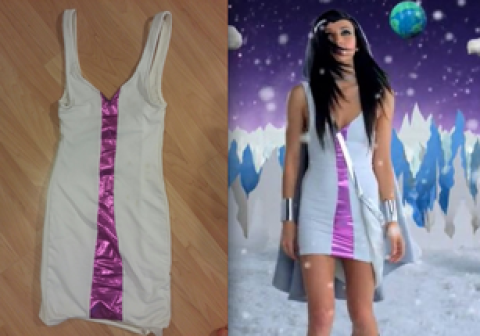 Canadian electro-pop singer Lights, who spent part of her youth in the Philippines with her missionary parents, is currently auctioning off some of the one-of-a-kind dresses she wore in her music videos as well as at the Juno Awards, in addition to other items. All the proceeds will go to World Vision's relief fund for those affected by last month's Typhoon Haiyan in the Philippines.
"I'm sure most of you know that the devastation was very widespread. Towns were leveled. Thousands of lives were lost. Five million children are affected. Millions of people are still displaced without food, shelter, medicine," she says in an online video made to promote the auction.
"So to see this happen in general is horrible, let alone to a country that means so much to me.  I spent a few years of my childhood growing up there and I couldn't have asked for a warmer, more generous, music-loving family-oriented culture to be raised in. So I thought now is high time for me to pull some of these things out that I've been holding on to for years and see what we can't pull together for those that are affected by the typhoon."
In the video, she pulls out each item and discusses it in detail, its sentimental value and the cool factor for her fans.
Six items are already racking up considerable bids. The long black dress with open back that she wore to the 2009 Juno Awards — at which she won Best New Artist — has surpassed $1000 after 29 bids, while a tank top she designed with fabric paint of a N64 controller that was used in her first photo shoot for her MySpace page is over $600 after 12 bids. An original "Ice" video dress with phone prop is over $700 after 14 bids. The auction ends Dec. 16 at noon (EST).
Of the "Ice" dress, she explains there were two videos made for the song, but the original video was very campy and had lots of props and sets. "This is the dress that I wore in it — the spandex number with the low back — and this little thing [holds up a prop], this is the phone that I used in it to text, and it's called an iLights, but it looks like a blackberry, just, you know, mixing flavours."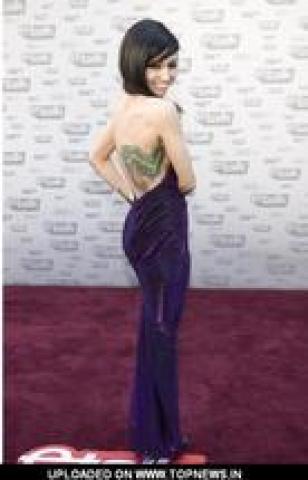 She also talks about the dress she wore to the Juno Awards and winning Best New Artist.
"That was a huge moment for me; it caught me by complete surprise; I was not expecting it," she says. "I had never been to an awards show at that point, and I didn't know what to wear or anything so I got together with Sarah Catalfo [Maybe by Catalfo], the designer I was working with on all my little dresses, and we went and picked out a fabric and we started to pin it all up on me in a way that I felt it looked good, and we came up with this dress. 
"It's all this really cool, iridescent purple fabric that's all ruched up, up and around, and behind, and it's got this really low back, and when I look at this dress it really reminds me of that special time and special day in my career."
For some reason, a seventh listed item, boots she spray-painted each time and wore in videos for "Ice,"  "February Air" and "Drive My Soul" already sold for $750 after 13 bids, it says, even though the auction doesn't end until the 16th.
"Silver was the last one and they were last used in the 'February Air'  video," Lights says. "You can even look inside and see some of the excess of the old paint; you can see some yellow. They've been around the block. I think when I bought them they were grey back in the day, but they're really special boots."
"Look at what you like the most, " she concludes, "what means the most to you, if any of it does — or if not at all let's just get together and raise some money for those that were affected by Haiyan in the Philippines."
Mens Flynit Trainers