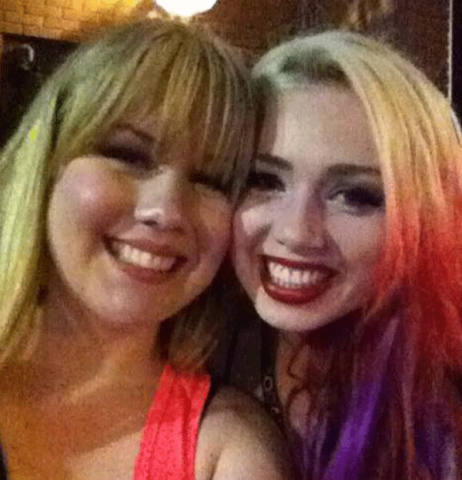 Canadian artist Skye Sweetnam has been an inspiration to young girls for many years. Now in her 20s, the one-time pop singer-songwriter who now fronts the more aggressive rock band Sumo Cyco, has been making her own videos, doing her own make-up and creating her own fashions since she was about 12 and released her first album at age 16.
One young lady inspired by Sweetnam is fellow Canadian Victoria Hammond, who does a Sumo Cyco makeup series on YouTube — but Sweetnam tells Samaritanmag she's just as inspired by Hammond.
"She's been to a bunch of shows and she has a type of autism called Asperger syndrome and I've been following her [on social media]," says Sweetnam. "She does makeup videos and she does all the videos for Sumo Cyco so she's done a makeup look for every single different video that we've had."
Asperger syndrome, also known as Asperger's, is an autism spectrum disorder (ASD) considered to be on the "high functioning" end of the spectrum, according to Autism Speaks. Affected children and adults have difficulty with social interactions and exhibit a restricted range of interests and/or repetitive behaviors. Motor development may be delayed, leading to clumsiness or uncoordinated motor movements.
In the video that introduces her channel, Hammond explains: "When I was six-years-old, I was diagnosed with a mild form of autism known as Asperger syndrome. It's a syndrome that affects a person's ability to socialize. But we are also very gifted and talented in many many ways. So talented in fact that people with Asperger syndrome have been known to change the world in many many ways, as well.
"I started this YouTube channel, trying to get myself out there through music and doing makeup tutorials. Those are both my 'Aspy gifts.' I call them Aspy gifts because, well, I'm an Aspy —that's a person with Asperger syndrome; that's how they are mostly known  — and music and makeup are my special Aspy interests, meaning they are something I am very strongly gifted in and people with Asperger syndrome have been known to shown [sic] many many gifts and talents that they excel so well in that some people find it absolutely astonishing and totally amazing…"
"So I made this YouTube channel as a way to connect with all of you with Asperger syndrome or connect with people who know someone who has Asperger syndrome to encourage them to dream big, never give up and that there is always hope and that are people who will love you and who will support you."
Hammond's channel includes makeup tutorials, musical covers, product reviews — and advice on having Asperger syndrome and sharing her personal stories, "just advice to help you be the best you can be so it'll seem like you don't even have the syndrome at all," she says.
Sweetnam says she wasn't educated about Asperger's until Hammond posted about it.
"Following her story and getting to know some of these kids that have been affected by different challenges in their life and bullying especially is an important cause for me," she says.
 "Victoria has been open on her YouTube channel with her struggles with bullying in schools and I remember being young and starting my career and I was at an arts high school and I remember coming back and everyone really hated me because I was out in the world doing crazy things," says Sweetnam, whose crazy things included touring with Britney Spears and performing on Jay Leno.
"I do really feel really strongly about the anti-bullying movement going on right now."
Nike nike dunk high wedge gold White Black CT2302-100 Release Date