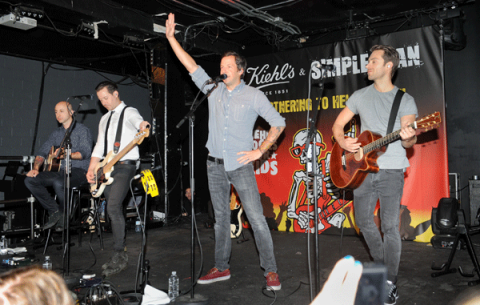 Facial moisturizer isn't a typical fundraising item for an all-male rock band, but Montreal's Simple Plan gladly teamed with cosmetic company Kiehl's to raise money for their Simple Plan Foundation. Formed in 2005, the Foundation's aim is to "help young people in need, by easing their often difficult passage to adulthood and by supporting the victims of life threatening illnesses." Together, Simple Plan and Kiehl's hope to raise up to $40,000 through the sale of the Kiehl's Rocks for Kids Ultra Facial Cream and other initiatives.
Samaritanmag.com spoke with drummer Chuck Comeau after Simple Plan's private acoustic concert Sept. 19 that was webcast from the Hoxton in Toronto. Only 100 tickets were made available for pick up at Toronto-area Kiehl's stores for those over the age of 19.  Comeau introduced his bandmates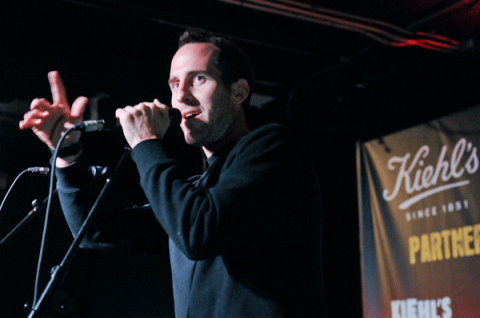 — lead singer Pierre Bouvier, guitarists Jeff Stinco and Sebastien Lefebvre, and bassist David Desrosiers — and then watched from the sidelines while they played acoustically. The limited edition Ultra Facial Cream sells for $32 for the 50ml jar and $56 for the 125ml, while supplies last.
Tell me all the different components that you can make money for the Simple Plan Foundation through Kiehl's.
"Yeah, there was all kinds of ways. The number one way for one weekend (Sept. 12-14), all transactions all across Canada in all the stores and online, $1 was going to the Foundation per transaction [the event was called Shop For a Cause]. So whoever walked into a store and bought anything from there over three days,  $1 went there, and we made this special edition Simple Plan moisturizer — Ultra Facial Cream, the most iconic and popular one, for Kiehl's."
That's fun, right? Your name on a moisturizer.
"That is very cool. I got a bunch."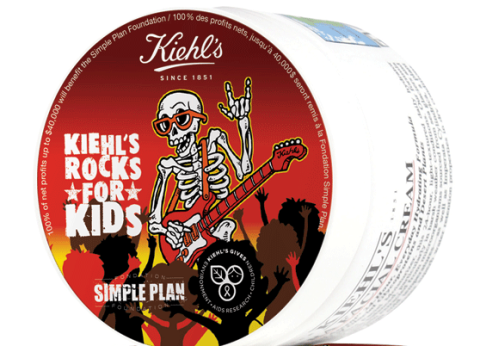 Did you design the skeleton artwork?
"No, that was their brand and their Rock for Kids logo. It just had a little foundation thing [added] so we weren't involved with that. But it's just cool to be everywhere in all the stores and to see it. So all the proceeds from that for as long as supplies last, as they say, will go to the Foundation."
So all the proceeds from that one product?
"From that one product, correct. And then the last one was [the concert]. Basically, for every stream online, $1 per stream was going to go to the Foundation. I'm not sure what the numbers were. So those are the three main ways for Kiehls and us to raise money for the Foundation in this particular thing."
You're all guys. I know that Kiehl's doesn't sell products with flowery packaging. So do you use their products?
"Actually, you know what, I know it's going to sound like, 'Oh yeah, of course,' but way before they even approached us I was using them, for years now, and I really like it."
The moisturizer?
"Well, it's funny, the first time I used that cream, the Ultra Facial Cream and used the face wash. When you play a show every night, you've got to wash your face after. If you go to bed after a show for two hours [and don't wash your face], I'm sorry that's kind of gross, in my book. So I use that. That's really good. I also use shampoo and conditioner, so, again, after the show you've got to do that, otherwise, no bueno. Lip balm…I kind of use everything.  I just buy into the whole concept of the brand. I was already using everything. So the coolest thing was when we started working with them, I got some free stuff. I was pretty stoked. It's like you said, they do the brand so that guys don't find it too lame to use their products."
Do your band mates also use it, some of them?
"Yeah I think so. All the guys are using some. I think I'm the one that uses the most, I'll be honest with you."
And you look way younger than all of them [ed. read as joke].
"I think so. I try to. But it's just nice stuff and it's not crazy expensive where you're like, 'Oh my God,' but it's not cheap for quality, so it's kind of perfect."
What are the things Simple Plan needs to know from Kiehls' when you're putting your name on something?
"It was important for us to look into how involved they have been with charities around the world and being involved socially and all that. Having that and what kind of values does the brand stand for? And getting to know the people behind the brand, who are we going to work with on the campaign, and what are their goals and what they want to accomplish, how they want to accomplish that."
What did you discover?
"That it was a good fit! We were on the same page for lots of stuff. We've worked with a lot of people throughout our career and I'd say this was probably one of the smoothest, easiest, nicest, everybody's happy on both sides, win-win kind of partnership. They were down to raise money.
"It wasn't like, 'Oh, we need to give to our charitable thing or we need to keep half.' It was like, 'No, we're doing this for your Foundation. There's no tricks. There's no nothing. We want to raise as much as possible. We just love working with you guys.'
"So it was really easy and they were really cool and, obviously, there was a kind of commitment we had to do, one or two things in Montreal, like a meet 'n' greet with fans, and then there was the show [in Toronto], and a few tweets and all that, but that wasn't even a commitment. We just tweet because we believe in the whole thing and we want to get people to be aware of it."
Now that the big blitz is over, are they going to keep promoting it?
"I hope so! They just kept raving how well it went for them, and with all the press because we did, they said they had something like 15 million impressions around the country, so I think they're really happy and surprised by the scale of interest they got out of it. So they're like, 'We should try to keep going and try to find new ways of working together.' So who knows? It's cool when you make friends and when you're on the same page because if you have something new you want to do, you'll go to them first because you feel like, 'Hey, those guys got it.' And maybe they'll feel like that with us. So, hopefully, we'll get more chances to work together down the road."
Sneakers Nike