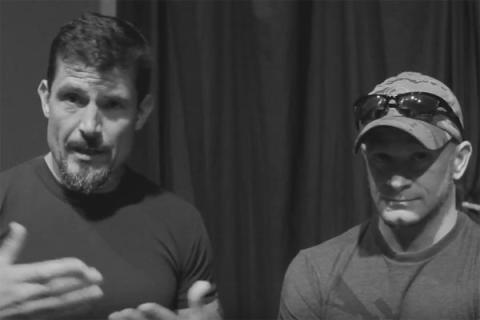 Heavy metal band All That Remains are trying to help U.S. military veterans suffering from post-traumatic stress disorder (PTSD).
The band, who just released their eighth album, Madness, on April 28, enlisted Benghazi veteran Kris "Tanto" Paronto to appear in a video for the title track that sheds light on the anxious, often difficult time military veterans have when returning to normal life.
According to the press release, Paronto is "a former Army Ranger from 2nd Battalion 75th Ranger Regiment and private security contractor who has been deployed throughout South America, Central America, the Middle East and North Africa. He also worked with the US Government's Global Response Staff conducting low profile security in high threat environments throughout the world.  Paronto was part of the CIA annex security team that responded to the terrorist attack on the US Special Mission in Benghazi, Libya, September 11th, 2012, helping to save over 20 lives while fighting off terrorists from the CIA Annex for over 13 hours."
In the "Madness" video All That Remains can be seen performing the song in a room meant to resemble the Oval Office. The video then cuts between them, battlefield footage of soldiers and attack helicopters, and scenes of Paronto alone in a room, showing obvious signs of emotional distress while brandishing a handgun. It's only when Paronto's young daughter enters the room that his mood changes and the dangerous situation is ended.
All That Remains want the song "Madness" to be used to encourage veterans to get help they may need.
"We are excited to present the video for 'Madness,'" said band lead singer and ex-marine Phil Labonete, in a statement. "With the help of our friend, Kris Paronto we hope to call attention to the veteran community and the effects of post-traumatic stress. There are places you can call if you need someone to talk to. Reach out to the community and you'll find the shoulder you need."
The end of the "Madness" video lists a number of resources for veterans in need, including the VA Helpline and Veterans Crisis Line. The video also calls attention to two other resources, Paronto's 14th Hour Foundation and The Boot Campaign.
Paronto, who was part of the C.I.A. security team that responded to the terrorist attack on the U.S. Special Mission in Benghazi, Libya in 2012, set up the 14th Hour Foundation to provide grants to help out veterans with "unexpected everyday life events that other government programs may not cover." Some of the ways the foundation has helped include paying utility bills, help with rent, vehicle repair, burial costs and help with college tuition.
The Boot Campaign, meanwhile, "is dedicated to promoting patriotism for America and our military community; raising awareness of the unique challenges service members face during and post-service." Through retail sales of combat boots, apparel and other items, its ReBoot campaign provides veterans with "a scientific and holistic veteran treatment program" meant to fit each person's needs.

Paronto encouraged anyone that may need it to seek help in a behind-the-scenes conversation about making the "Madness" video.
"'Madness' has much to do about PTSD — post-traumatic stress," he started. "I hate saying 'disorder.' I don't think it's a disorder. I think post-traumatic stress is a badge of honour. You've got that... by going through things that people normally can't handle.
"If this (video) can help anyone get through another day — which friends like Phil have helped me get through another day — then I think we're on the right track and we're putting veterans first.
"Put that pride aside, get out there and make that call."

Watch All That Remains' "Madness" video
Air Force 1 Sage Low