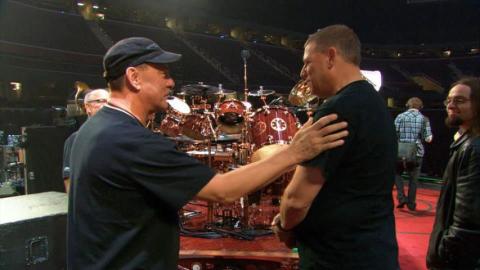 A mix of Canadian Walk of Fame inductees surprised some selfless Canadians for a new six-part television series, currently airing on Global. In Walk The Walk, musicians Nelly Furtado, Tom Cochrane, Neil Peart of rock band Rush, world champion figure skater Kurt Browning, boxing legend George Chuvalo and prima ballerina Sonia Rodriguez each pay a visit to a person who is doing something remarkable to make a difference in others' lives.
The show is positive payback, karma working to give these individuals an experience they will never forget with people they admire.
Produced by Enter The Picture Productions, founded by Lynn Harvey (The Ron James Show, Jonovision, Skinnamarink TV), Walk The Walk airs back to back episodes Saturdays (10 p.m. ET/PT) mid to late October.
In the previously aired Rush episode, Neil Peart surprised London, Ont. music teacher and fellow drummer Karl Sloman, who has twice set the world record for continuous drumming (60 hours, in 2004) to raise money for local charities, three for food-banks and two for The Thames Valley Children's Centre for persons with disabilities. In 2005, he began teaching special needs students and leads a band of disabled musicians called Train Wreck from the Adaptive Music Program. He also invented and builds specialized electronic instruments for his students to play.
In a blog on Sloman's web site, he walks the reader step by step through the filming of the TV show, his love of Rush, and the experience of meeting them.
"During the early years of my teaching my disabled 'crew,' they [Walk The Walk producers] learned of my reverence of Rush and how I used the band as role models for how I wanted Trainwreck to conduct themselves both musically and personally," he writes. "I often used video interviews of Neil from his DVD, Anatomy of a Drum Solo, to teach them the virtues of perseverance and determination."
Enter The Picture Productions noted his fanaticism for the band and worked on getting him to a concert in Cleveland, Ohio, a year ago, where they secretly arranged for him to meet Peart — and much more. "At that point, you could have easily knocked me over with a feather," Sloman writes. "My drum hero was there, someone I had listened to for over 30 years. Someone I had studied: his playing note for note, the music I had learned down to the smallest nuance. Someone who's pictures had adorned my walls since I was 13 and a man who had truly inspired me in so many ways, and here he was in person! As he approached me he said, 'So here is the man of the hour; Karl I am very impressed with what you are doing.'  I almost cried. Again, all I could think is why would someone do this for me, why was I being treated so special? Neil Peart is arguably (not in my mind) the most influential and talented drummer in rock history and he complimented me!"
His chronicling continues and finally concludes with,  "After we left the venue and had time to digest what had happened I realized a few things. When we do things for others it really does make a difference. If we do things with altruism at heart, the rewards can come back in ways you would never expect."
STORY CONTINUES AFTER THE VIDEO:
The episode featuring Kurt Browning and Ajax, Ont.'s Nancy Eastman has also aired. Eastman has spent years coaching and mentoring Special Olympics skaters, including three World Champions, and is dedicated to helping young people achieve their full athletic potential no matter what their disability.
This weekend, (Oct. 19), the two episodes with Tom Cochrane and Sonia Rodriguez air.  Cochrane meets Milton, Ont.'s Angus Ronalds who lost his 34-year-old wife, Heidi, and 7-year-old son, Riley, to cancer in the same year. In their honour, he created Riley's Walk, an annual 5 km walk to raise funds for genetic cancer research. Riley's favorite song was Cochrane's "Life Is a Highway," it says in the press material. Rodriguez meets occupational therapists, dancers and sisters Mallory and Jade Ryan, also in Milton, who created and run a dance instruction program for young girls with physical and intellectual disabilities.
On Oct 26, the final two Walk The Walk episodes air.  Nelly Furtado surprises 16-year-old Mustafa Ahmed, a member of the youth sub-committee at Toronto's Daniels Spectrum, a group that is bringing the arts to disadvantaged youth; and George Chuvalo pops in on Miranda Kamal and her husband Ibrahim who founded MJKO, a Toronto organization that uses boxing to reach out to and help at-risk youth. 
Air Jordan 1