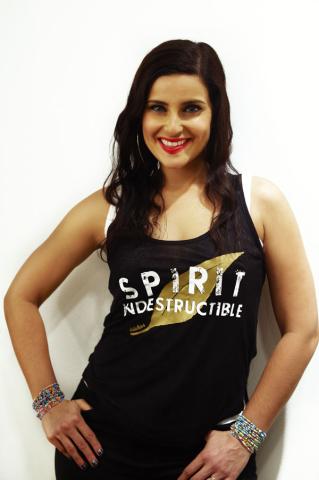 Canadian pop singer Nelly Furtado just released her new album, The Spirit Indestructible, a title inspired by a story in the book Me To We, but for the past few months Free The Children has been selling a "spirit indestructible" tank top. All proceeds go towards the construction of a new all-girls high school in Kenya and other girls' education initiatives.
The tanks come in black and white and are available on the Me To We online store for $34.50.
Furtado, who is an ambassador for Free The Children — the world's largest network of youth helping youth through education and development programs, started by 12-year-old Craig Kielburger in 1995 — will match every dollar raised (up to $500,000).
"The tank top is designed with Free The Children and with Me To We, which is their product line," Furtado tells Samaritanmag. "It's for Oleleshwa. This is the brand new school we started building this past spring, the one that I went to visit with my daughter and husband.
"The new school will be just like Kisaruni [which she visited on her first trip to Kenya] but just about 15 minutes away. The girls in the community will go to the school, basically the ones with the best grades — obviously there's a whole process — but the first class will have 40 kids."
Oleleshwa Secondary School is named after the resilient leleshwa plant, a wild sage plant that grows on the land of the school in Massai Mara.
"It's a really hearty plant. This plant survives extreme conditions when all the other vegetation around has died. So the community, the elders and everyone, decided that that would be the perfect name for the school," says Furtado.
"So I decided to do a tank top in honour of Oleleshwa to continue to raise funds to complete the school and also to pay for tuitions now and in the coming year."
The tank top features the leleshwa leaf and says "spirit indestructible," because, explains Furtado, "[The album] The Spirit indestructible is very inspired by everything I've done over the past year and I really thought that it was fitting to tie the two things together."
Me To We donates half its annual profits to Free The Children by selling socially conscious products and services.
Nike air max