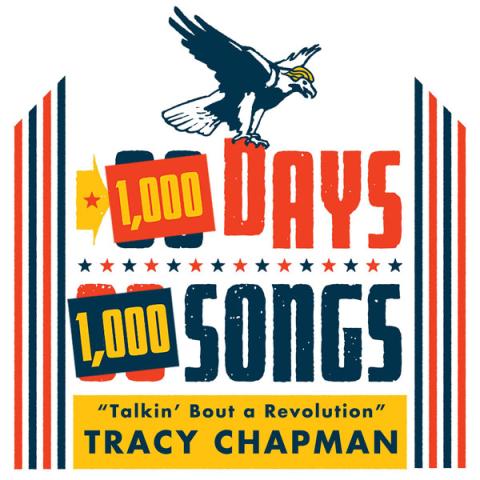 If nothing else good comes out of the next four years, at least it will have a great musical soundtrack. A pair of interconnected musical projects have been unveiled that will provide music for the resistance against U.S. President Donald Trump.
Billed as an "evolving playlist" that will have a new protest song added to it each weekday, 1000 Days, 1000 Songs is promising to spend the next four years actively serving up new music that speaks to the many people concerned with the state of America. The first song 1000 Days debuted was a rare live version of R.E.M.'s "It's The End Of The World As We Know It," recorded in Greensboro, NC in 1989.
The 1000 Days project is spearheaded by Dave Eggers, the founder of McSweeney's and author behind A Heartbreaking Work Of Staggering Genius. Eggers is also involved in the literacy project 826 Valencia, human rights organization Voice of Witness and ScholarMatch, which gets students funding for college. 1,000 days is an extension of 30 Days, 30 Songs, a voter registration program that ran in the lead-up to the U.S. general election and raised money for the Center for Popular Democracy (CDP).
"These are strange and disturbing times. We need music to make sense of it — or at least provide a soundtrack to our climb from despair to action," said Eggers in a statement. "The White House we've known for the last eight years — one that projected inclusion, compassion, intellectual rigor and progress — is gone.  But it's not the end of the world. It's the beginning of the fight.  No, we don't feel fine, but we can feel inspired to act. Despair will not help the millions who are newly vulnerable. Time to get to work."
A related program, and one that will contribute songs towards the 1000 Days project, is Our First 100 Days, a song-a-day project led by the Secretly Group of record labels that will release 100 songs whose proceeds will go towards organizations working on the front lines of climate, women's rights, immigration and fairness. At Our First 100 Days they're promising that anyone who donates at least $30 USD ($X CND) will receive downloads of all the songs from the project, including tracks from cool indie acts like Angel Olsen, How To Dress Well, Toro Y Moi and more.
The projects proceeds from 100 Days will fund include:
* The People's Climate Movement — Aims to advance an American economy that protects our planet and people.
* All Above All — A defender of women's reproductive rights, they're working to lift the legal bans that prohibit aportions.
* Cosecha — This organization works to protect undocumented immigrants living and working in America.
* Southerners On New Ground — A regional LGBTQ organization in the American south, they're made up of people of color, immigrants, undocumented people, people with disabilities, working class and rural and small towners.
* Hoosier Action — This Indiana-based community building group will tackle regional economic and social issues that impact people and communities.
* Revolutions Per Minute — A nonprofit agency that provides artists with strategy and support for their activism and philanthropy, RPM helps artists figure out ways to raise money for good causes.
Hear the 1000 Days, 1000 Songs playlist:
Air Jordan 1 Retro High OG 'Chicago' White and Black-Varsity Red For Sale