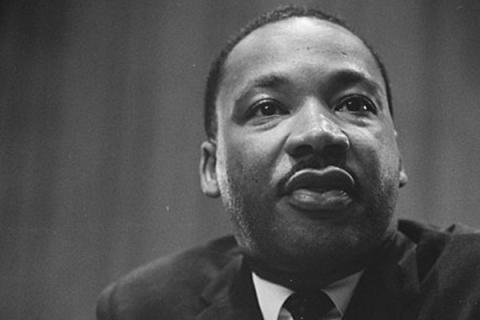 January 15 marks Martin Luther King Jr. Day, the annual federal holiday honouring late civil rights activist Dr. Martin Luther King Jr.
King, who received a Nobel Peace Prize for combating racial inequality through non-violent resistance, was shot and killed by James Earl Ray on April 4, 1968 while standing on the balcony of the Lorraine Hotel in Memphis, Tennessee. King's death didn't end the good work being done in his name, though.
Whether it's supporting the voting rights of African-Americans, opposing the Vietnam War, working to dismantle segregation, or any of the many other causes King worked on, his actions have inspired a lot of great music over the years.
Samaritanmag collected 12 of these songs from across various genres and eras to show how widely King has impacted the artists of the world.
This song was taken from the 2014 movie Selma, which revolves around the 1965 Selma to Montgomery, Alabama marches where Dr. King and a number of other prominent civil rights activists conducted repeated protest walks to promote new federal voting rights law enabling African Americans to register and vote without harassment. The marchers were constantly harassed, menaced and attacked during their efforts. "Glory," the song, would win an Academy, Golden Globe and Grammy award.

Get it on iTunes


Bruce Springsteen "We Shall Overcome"
A gospel traditional that got adopted by the Civil Rights movement in the 1950s, the song was popularized by protest singer Pete Seeger. The song was a theme for one of King's most famous speeches. Springsteen recorded a version of the song on his 2006 album We Shall Overcome: The Seeger Sessions.

Get it on iTunes
The Game "Letter To The King" ft. Nas
Taken from the rapper's 2008 album LAX, the song is a tribute to Rosa Parks as well as Martin Luther King Jr. and Coretta Scott King. The song documents The Game's growing understanding and appreciation of King's "I have a dream" speech.

Get it on iTunes
Although there's some debate as to whether the blackbird with a broken wing in this song is a metaphor for racial tension in America or a love song dedicated to a fan, the Beatles' "Blackbird" from the band's 1968 White Album has nonetheless been been adopted by those concerned about black struggle.

Get it on iTunes
Nina Simone "Mississippi Goddam"
Taken from her Nina Simone In Concert album released in 1964, classical/jazz/R&B singer Nina Simone considered this her first civil rights-related song. The song was a response to response to the murder of Medgar Evers, an NAACP worker who had helped to dismantle segregation, as well as the 16th Street Baptist Church bombing in Birmingham, Alabama, which caused the death of four black children.

Get it on iTunes
Rage Against The Machine "Renegades Of Funk"
A reimagined cover of Afrika Bambaataa's 1983 song "Renegades Of Funk," Rage Against The Machine used the song to anchor their 2000 album Renegades. The accompanying video included visual nods to King and other noted civil rights advocates as well as groundbreaking rap groups.

Get it on iTunes
U2 "Pride (In The Name Of Love)"
A huge hit from U2's 1984 album The Unforgettable Fire, the song reflects on the date he was assassinated. The Irish band also had a second song, "MLK," dedicated to King on the Unforgettable album.

Get it on iTunes
Public Enemy "By The Time I Get To Arizona"
This anthemic rap track was a response to Arizona governor Evan Mecham refusing to acknowledge Martin Luther King Jr. Day in that state. The song was part of the rap group's Apocalypse '91 album, whose strong socio-political message was so well received, it was named the #2 album of 1991, behind only Nirvana's Nevermind in the Village Voice's Pazz & Jop poll.


Get it on iTunes
Kris Kristofferson "They Killed Him"
Divisive country star Kris Kristofferson honoured Martin Luther King, Jr., Mahatma Gandhi, Jesus Christ, John F. Kennedy and Robert F. Kennedy in this song from his 1985 album Repossessed. Both Johnny Cash and Bob Dylan would cover the song.

Get Dylan version on iTunes
David Guetta "Just A Little More Love"
This 2002 house track from French producer David Guetta advocates for "a little more love" and "a little more peace" in order "to live a dream."

Get it on iTunes
Gospel singer and activist Mavis Staples dedicated this song to King on her 2016 album Livin' On A High Note. As part of The Staples Singers, Mavis enjoyed a close friendship with King and that group's music was a prominent soundtrack for the civil rights movement in the 1960s.

Get it on iTunes
Moodswings "Spiritual High Part III"
The third section in an uplifting house music suite by the U.K. duo Moodswings features King's "free at last" speech. The "Spiritual High" suite would also feature vocals from The Pretenders Chrissie Hynde and is based on the Jon & Vangelis song "State Of Independence."
nike headquarters Sneakers