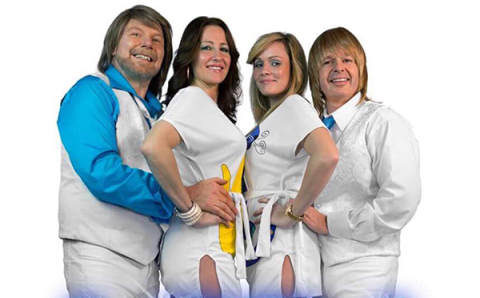 ABBA Revisted, an acclaimed tribute act, will be belting out the hits to raise funds for the Centre for Addiction and Mental Health Foundation's Gifts of Light program in Toronto, which provides necessities and practical gifts for patients of the renowned hospital.
Your favourite ABBA songs from the Swedish group -- from "Knowing Me, Knowing You" and "The Name of the Game" to "Mamma Mia" and "Waterloo" -- will be belted out at CAMH's 2nd annual Out of the Blues benefit concert at the Phoenix Theatre on Feb. 27.
General admission tickets start at $40, with VIP tickets that include a pre-concert cocktail priced at $150.
But besides the song and dance, the fundraiser through the proceeds of ticket sales and a silent auction aims to battle the "winter blues," or mid-winter depression, by bringing a smile to peoples' faces as they, as a first step, get out of the house.
"The 'winter blues' or Seasonal Effective Disorder (SAD) is a form of depression that effects up to 20 percent of the population," says CAMH Gifts of Life chair Donna Slaight in a statement.  "One of the best strategies for counteracting SAD is getting out of the house and interacting with people. Out of The Blues is both a fundraiser, and an opportunity for people to get out after a long, dreary and cold winter."
The benefit concert will directly support the CAMH Gifts Of Light program, providing such gifts as emergency kits, pet therapy or cooking lessons, for people coming to the hospital as they face mental health and addiction issues.
The Gifts of Light program also offers emergency necessities, creative courses and potential educational opportunities for patients. 
For example, the hospital's Suits Me Fine clothing shop, located at the hospital's Queen Street location, gives patients the opportunity to select from donated new and gently used clothing, such as shoes and socks ,and formal suits and dresses, free of charge.
The Toronto-based hospital for mental health and psychiatric research provides clinical care and services to more than 31,000 patients every year, many of whom arrive at emergency and outpatient clinics, or through the criminal justice system, with only the clothes on their back and require better protection from the Canadian winter.
The Mamma Mia-themed Out Of The Blues 2 concert follows up on the inaugural Out Of The Blues With The Blues Brothers Revue that took place in February 2018. That event raised over $40,000 for CAMH Gifts of Light.
(Please support Samaritanmag's original journalism by making a PayPal contribution or EMT transfer using  info@samaritanmag.com so we can increase the amount of content and writers we hire. Samaritanmag is the anti-tabloid, covering good people trying to change bad things. Let's make this thing bigger than TMZ.
How to Run Faster , Increase Your Running Speed and Endurance