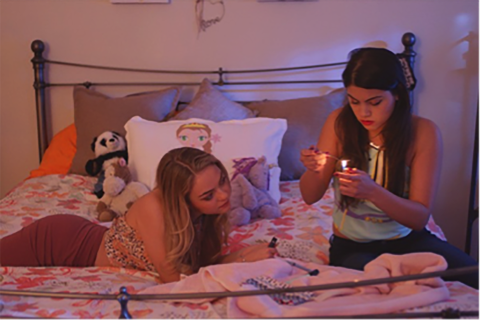 The Amy Winehouse Foundation in the U.K. and Global Recovery Initiatives elsewhere are the charities chosen to benefit from sales of the Sept. 29 digital release of the opiod addiction drama Sno Babies, available for rent or purchase on Amazon, Apple TV, iTunes, Google Play, and others.
The Amy Winehouse Foundation, launched in 2011 after the iconic singer's untimely death at age 27, supports young people impacted by drug and alcohol problems, and offers drug and alcohol education in schools and recovery housing facilities for young women.
The U.S.-based GRI foundation is a charity that supports people in recovery from SUD, or substance use disorder.  Originally the Sobriety High Foundation, established as the first recovery high schools based in Minnesota, GRI was eventually broadened to collegiate recovery programs that today operate on more than 300 college campuses across the U.S.
The charities were chosen by Better Noise Films as Sno Babies — directed by Bridget Smith and starring Katie Kelly and Paola Andino — tells the story of Kristen and Hannah, best friends who become addicted to heroin and spiral down a path of destruction.
All artist royalties from the movie's soundtrack — including several songs from Nikki Sixx's band Sixx: A.M., Hellyeah, Bad Wolves, and a collaboration called Sixx: A.M. Presents: Artists For Recovery, featuring Corey Taylor, Joe Elliott, Brantley Gilbert, Ivan Moody, Slash, AWOLNATION and Tommy Vext — are also being donated to  Global Recovery Initiatives with matching contributions by Better Noise Music.
 The charity partnerships are timely as the covid-19 pandemic has increased the risk for people in recovery as treatments and support systems have been disrupted, and social isolation increases the risk for addiction, relapse and overdose deaths.
"We are very proud to have partnered with the Amy Winehouse Foundation. They do such an incredible job in Amy's name of educating people around what is becoming such a massive problem. Their work with young people is close to our heart and obviously reflects the harrowing storyline in the film. We look forward to saving lives together," Allen Kovac, CEO of Better Noise Music, said in a statement.
Every digital stream of the film and download of the Sno Babies soundtrack will raise funds to support recovery for Global Recovery Initiatives, as well as the Amy Winehouse Foundation.
The Amy Winehouse Foundation,  besides tackling drug and alcohol misuse, also supports the personal development of disadvantaged children and young people through music.
"We know from personal experience the devastation and heartbreak that addiction can bring," said Mitch Winehouse in a statement. "Since setting up the Amy Winehouse Foundation in our daughter's memory nine years ago, we have learnt so much about this condition. We have also learnt that recovery is possible and people can go on to live wonderful and fulfilling lives. We've made it our mission to work with people in recovery and to support young people who are struggling with the same sorts of issues as Amy and we're delighted that Better Noise and Sno Babies are helping us to do that."
The Sno Babies proceeds for GRI will be used to put 1000 Recovery Corps workers into communities to provide peer support and access to services for those in early stages of recovery.  
"Pop culture is a key vehicle to breaking stigma and educating the public about both danger and hope," Global Recovery Initiatives Foundation's executive director Catherine Hartnett said in a statement. "Young people, especially, resonate with messaging that is cultural and reflects emotional and personal experience.  This movie and its soundtrack convey a message of hope coming from despair and can give a young person who is struggling a sense of hope that they too can get well and thrive."
There is a donate button on the YouTube trailer page for the show that has surpassed $10,000 (USD) to date.
(Please support Samaritanmag's original journalism by making a PayPal contribution or EMT transfer using  info@samaritanmag.com so we can increase the amount of content and writers we hire. Samaritanmag is the anti-tabloid, covering good people trying to change bad things. Let's make this thing bigger than TMZ.)
Air Jordan Release Dates 2020, Sneaker News, Release Dates and Features