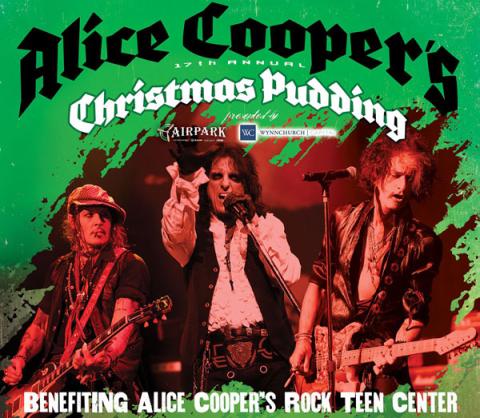 Veteran shock rocker Alice Cooper will be enlisting the support of some fellow vampires to help teens in need.
Specifically, Cooper is bringing out Johnny Depp and Aerosmith's Joe Perry — the other two-thirds of the all-star band Hollywood Vampires that he anchors — to headline the 17th annual Alice Cooper's Christmas Pudding concert to benefit his Solid Rock charity.
The annual all-star event takes place Dec. 8 at the Celebrity Theatre in Phoenix, Arizona and will also feature the likes of Eric Bloom and Buck Dharma of Blue Oyster Cult, Gretchen Wilson, Sebastian Bach and Larry the Cable Guy on its bill. Proceeds from the event will go towards the Solid Rock charity with tickets starting at $120 USD ($158.28 CAD).
A faith-based non-profit formed in 1995, the mission of Alice Cooper's Solid Rock organization is to "help meet the spiritual, economical, physical, and social needs of teenagers in our community." Solid Rock operates in non-school hours to provide teens with opportunities in artistic expression such as through music, dance, video and sound production.
"We want to take the guns out of their hands and replace it with a guitar," Cooper has said about Solid Rock's mission.
The organization estimates that it has between 50 to 100 teens dropping in to its Center every day to participate in its various creative pursuits. Things like music classes in guitar, bass, drums, vocals or dance-related classes are all free for teens with the costs being covered by donations and fundraising activities like the Christmas Pudding events.
Cooper's annual Christmas Pudding events have a long and star-studded history. The "School's Out" singer welcomed KISS's Ace Frehley, Rob Halford of Judas Priest, Slash from Guns n' Roses and Megadeth bassist David Ellefson. Other editions have featured the likes of Korn, Gin Blossoms, former Van Halen singer Sammy Hagar, E Street Band guitarist Nils Lofgren, blues guitarist Jonny Lang, Night Ranger, Thousand Foot Krutch and POD.
The Christmas Pudding shows are far from the only charitable venture from the musician better known for scary songs like "Welcome To My Nightmare," "Poison" and "Feed My Frankenstein." Cooper's 22nd annual Rock 'N' Roll Golf Classic tournament will take place April 27-28, 2019 at the Las Sendas Golf Club in Mesa, Arizona. The event brings out high-profile musicians, entertainers, sports figures and professional golfers who all come together to support Cooper's Rock Solid initiative.
Watch Alice Cooper discuss the Solid Rock foundation
nike fashion