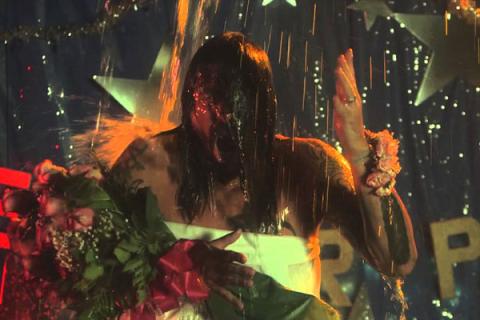 If you were one of the many thousands of people who had freezing water poured over your head as part of the ALS Ice Bucket Challenge back in July 2014, you can now definitively say it was all worth it.
The millions raised from the innovative fundraising campaign to combat amyotrophic lateral sclerosis (ALS, known commonly as Lou Gehrig's Disease), has helped researchers identify a new ALS gene, NEK1, which now ranks among the most common genes that contribute to the disease, according to an press announcement by the ALS Association.
Researchers from Project MinE, a massive project with the goal of mapping the full DNA profiles of at least 15,000 people with ALS and 7,500 control subjects, were the ones who identified the gene (the findings appeared in Nature Genetics, a journal which "publishes the very highest quality research in genetics"). Project MinE, which is funded by the ALS Association using the money taken in from the Ice Bucket Challenge, involves 80 researchers from 11 countries, and is led by John Landers, Ph.D., of University of Massachusetts Medical School in Worcester, Mass. and Jan Veldink, Ph.D., of University Medical Center Utrecht, in The Netherlands.
"The discovery of NEK1 highlights the value of 'big data' in ALS research," said Lucie Bruijn, Ph.D., M.B.A., in an ALS Association press release. "The sophisticated gene analysis that led to this finding was only possible because of the large number of ALS samples available. The ALS Ice Bucket Challenge enabled The ALS Association to invest in Project MinE's work to create large biorepositories of ALS biosamples that are designed to allow exactly this kind of research and to produce exactly this kind of result."
The ALS Association says the discovery and understanding of NEK1's role in ALS will help provide important new targets for therapy development.
"Global collaboration among scientists, which was really made possible by ALS Ice Bucket Challenge donations, led to this important discovery," said Project MinE's Dr. Landers. "It is a prime example of the success that can come from the combined efforts of so many people, all dedicated to finding the causes of ALS. This kind of collaborative study is, more and more, where the field is headed."
The Ice Bucket Challenge was viral and social media campaign that broke big in the summer of 2014. Participants were encouraged to dump a bucket of ice and water on someone's head to promote awareness of the disease, donate to the ALS Association, then challenge someone else to do the same. The 2014 challenge ended up raising roughly $115 million ($151 million CAD) for ALS research and featured such high-profile personalities as LeBron James, Oprah, "Weird Al" Yankovic, Tina Fey, Bill Gates, Martha Stewart, Tom Cruise, Donald Trump and Dave Grohl of the Foo Fighters, whose challenge was a masterful take on the horror film Carrie.
Watch Foo Fighters' Dave Grohl taking the Ice Bucket Challenge:
Yeezy Release Dates 2020