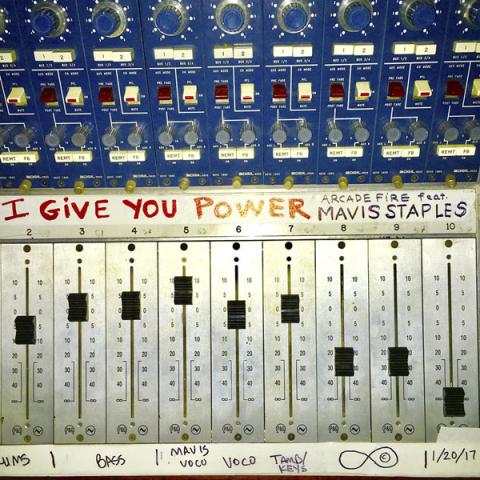 Arcade Fire have released the new protest song "I Give You Power" to support the American Civil Liberties Union (ACLU).
The Canadian indie rock band's song prominently features gospel-soul singer and civil rights activist Mavis Staples joining the band to belt out alternating lines "I give you power/I can take it away."
That message of taking power away was a not-so-subtle jab at now-U.S. President Donald Trump. The song was very pointedly released Thursday, Jan. 19, the evening before Trump was set to assume power of the United States.
"It's never been more important that we stick together and take care of each other," said the band in a message on its social media channels, before adding "Love, Mavis Staples and Arcade Fire" and that all proceeds from the song were going towards the ACLU.
The ACLU's mission is "to defend and preserve the individual rights and liberties guaranteed to every person in this country by the Constitution and laws of the United States," including First Amendment right in America like freedom of speech, association and assembly, freedom of the press, and freedom of religion.
The organization also makes a point to "extend rights to segments of our population that have traditionally been denied their rights, including people of colour; lesbians, gay men, bisexuals and transgender people; women; mental-health patients; prisoners; people with disabilities; and the poor."
Staples is no stranger to using music as a positive force for protest. Her old group The Staples Singers' music was closely tied to Martin Luther King Jr.'s civil rights movement and Staples counts herself a friend to Bob Dylan who has recorded some of his songs in the past.
Likewise, Arcade Fire have also used their music to support other initiatives in the past. Through the band's Kanpe charity, they've done extensive work to support projects in the country of Haiti that improve the lives of citizens there.

Listen to Arcade Fire's "I Give You Power" feat. Mavis Staples:
Air Jordan 1 Retro High OG "UNC Patent" Obsidian/Blue Chill-White For Sale