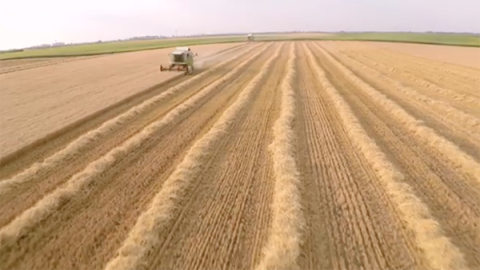 Is Canada poised to become the global frontrunner in areas of food safety and sustainability? That's a primary goal of Ontario's Arrell Family Foundation, which this week donated $20 million to the University of Guelph to help the institution "transform the global food economy and further strengthen U of G and Canada as agri-food leaders."
The donation is the largest-ever single gift the public research university has received in its nearly 53-year history during which it has distinguished itself as "Canada's food university" as well as one of the country's oldest and most eminent veterinary colleges.  
The University of Guelph will provide matching funds of $20 million for a total commitment of $40 million towards the creation of the Arrell Food Institute at U of G, dedicated to influencing "research, policy, practice and behaviour," says Tony Arrell, chairman and CEO of Burgundy Asset Management in Toronto who, with wife Anne, is a U of G alumnus.
The donation and creation of the Institute is "A bold initiative, and its impacts extend nationally and globally" Arrell continues in a prepared statement. If ample funding is a harbinger of success, the U of G is well on its way to meeting its goals to bring high science to bear on farming and agriculture.
Along with recent government and private funding – including a $77-million award from the Canada First Research Excellence Fund for the Food From Thought project – this new gift brings the total investment in agri-food at U of G to more than $150 million in just the past 12 months.
The Arrell Food Institute is expected to foster cutting-edge research, agricultural expertise, big data, environmental science, business and civil society, while building on the University's strong connections to government, international partners, industry, and communities.
In addition, the funding will support new research chairs, scholars and other thought leaders, international food innovation awards and a prestigious annual conference certain to shine the spotlight on the importance of food safety and sustainability in an ecologically precarious 21st century.
Says U of G president Franco Vaccarino, "This landmark gift will allow our University to address the defining challenge of our time: food security, safety and sustainability.
"U of G is the No. 1 agri-food school in Canada, with a 150-year history in agriculture and a global reputation for excellence," he says, referencing the Ontario Agricultural College, which was founded in 1874 and amalgamated with the Macdonald Institute and the Ontario Veterinary College to create U of G in 1964.
Vaccarino continues: "We are uniquely positioned to make a difference. The Arrell family has shown incredible generosity and foresight in making this gift, and we are grateful to them for their faith in our agri-food prowess."
Professor Evan Fraser - director of the Arrell Food Institute and holder of the Canada Research Chair in Global Food Security – puts it all in perspective. "This gift will help U of G and Canada to lead the agri-food revolution," he says.
"That revolution is based on widening uses of technology in agri-food. The same technologies that created the Internet and are transforming medicine are now being applied to farmers' fields and to food processing factories – we can produce more food on less land using fewer inputs."
And that means sustainably feeding the world today… and tomorrow.
Footpatrol x The North Face will keep you warm... In style! - Fashion Inspiration and Discovery