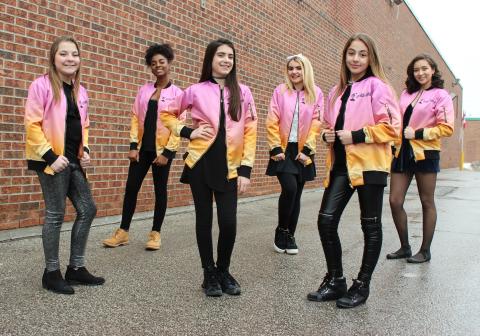 Juno Award-nominated pop band Girl Pow-R is using its social media channels to "share ideas on how everyone can be a 'helper' to those who need support right now" during the COVID-19 pandemic.
"We're experiencing this quickly-changing and challenging time alongside other young people across Canada and the world," said a group statement attributed to the members of Girl Pow-R in a media release.  "We can only imagine how others feel watching the news, and we know first-hand what it's like to sit at home and want to do something to help."
Fans of the Toronto sextet, whose members range in age from 11 to 17 and are not named in any of the press material, are also encouraged through Twitter, Instagram and Facebook posts to raise money for Autism Canada by visiting the Girl Pow-R Orbiiit web page to vote for it in an online talent competition.
Orbiiit's website describes it as "an online talent competition system and a social network for artists, creatives, influencers, fans and brands in music, fashion, art, entertainment and sports."
The online talent competition uses influencer marketing and crowdfunding models to connect brands with talents in different industries.
Girl Pow-R fans can vote once for free and then votes cost a dollar each, with partial proceeds being donated to Autism Canada. Those who purchase $375 in votes for Girl Pow-R will receive a denim jacket with the group's logo on it, while smaller donors receive entries into a draw for jackets. There will be one winner for every 15 entries.
"Winning would be great to boost our presence online, and your contributions would help us support more performances to raise additional funds for other charities," Girl Pow-R says on its Orbiiit web page.
Autism Canada is the result of an amalgamation of two national autism organizations, Autism Society Canada and Autism Canada Foundation. It advocates for and supports Canadians with autism, and their families, so they can have full, healthy and happy lives.
Autism Canada: acts as a national knowledge hub; influences public policy at the national level; facilitates collaboration and sharing among member organizations; supports and promotes medical and non-medical research; and builds greater capacity and competencies in healthcare and other sectors such as education, justice and senior care.
In the past, Girl Pow-R has helped contribute to SickKids, the Toronto Humane Society and Society for the Prevention of Cruelty to Animals, Give and Restore Hope Children's Charity, WE Movement, Food4Kids, and charities that work on behalf of anti-war, anti-violence and anti-bullying causes. It has also raised awareness for the occurrence of strokes in minors, which personally afflicted Girl Pow-R member Maya during a dance class. 
Each Girl Pow-R member has a social cause that she represents, including advocating for better education for girls all around the world, youth homelessness, giving peace a chance, mental health support and awareness, and taking better care of health through food.
Girl Pow-R symbolically formed on International Women's Day (March 8) in 2017. It has performed more than 200 shows and its This Is Us debut album was nominated for a 2020 Juno Award for children's album of the year.
Nike Air Force 1 Shadow Beige White Orange CU3012-164 – Buy Best Price Adidas&Nike Sport Sneakers