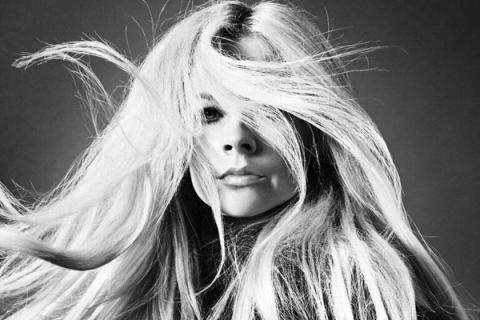 Avril Lavigne is using the release of her new song "Head Above Water" to help launch a campaign to support those who've suffered from Lyme Disease.
The key component of this campaign is the #HeadAboveWater charitable t-shirt, which is now on sale for $24.99 USD ($31.96 CAD) via the Avril Lavigne Foundation website. The shirt features an image of Lavigne floating in water on the front with the lyrics to the "Head Above Water" song on the back. Proceeds from the shirt sales are being promised to "directly impact individuals affected by Lyme that wouldn't otherwise be able to afford treatment." Lyme Disease related organizations Lavigne has already supported include Global Lyme Alliance and LymeLight Foundation, two groups dedicated to improving treatment, diagnosis and prevention of the disease.
An infectious disease caused by deer tick bites, Lyme Disease can cause a wide range of severe and long-lasting effects on sufferers. Symptoms can include persistent fever, headache and tiredness, joint pain, facial paralysis and heart palpitations. An estimated 350,000 Americans suffer from Lyme Disease each year.
In 2015 Lavigne revealed that she had suffered a serious bout of Lyme Disease that had left her bedridden for five straight months. In the aftermath of Lavigne's recovery, she tasked her foundation to support people with Lyme Disease with various programs and grants.
"Head Above Water" is directly inspired by Lavigne's experiences during her period of illness.
"One night, I thought I was dying, and I had accepted that I was going to die," said Lavigne in a statement. "My mom laid with me in bed and held me. I felt like I was drowning. Under my breath, I prayed, 'God, please help to keep my head above the water.' In that moment, the song writing of this album began. It was like I tapped into something. It was a very spiritual experience. Lyrics flooded through me from that point on.
"I went through a lot to get here," added Lavigne. "The positive side is I didn't stop living my life. Having music while I was healing and in recovery definitely pulled me out of my darkness. I had a goal to work towards and a purpose. I hope the album touches people. We all go through challenges in life. Some unfortunately are more serious than others. Having gone through the battle of my lifetime, I'm stronger than ever and looking forward to sharing my renewed voice and energy for my life with my fans through this new music."
Though supporting those with Lyme Disease is the focus of its latest campaign, the Avril Lavigne Foundation has supported a number of causes since its inception in 2010. Some of these include Easter Seals, Make-A-Wish, UCLA Mattel Children's Hospital, Race to Erase MS, Special Olympics, Toronto Sick Kids and UNICEF.
If the response to "Head Above Water" is any indication, this campaign will be a strong success. The singer behind such hits as "Complicated" and "Girlfriend" reached No. 1 on iTunes in 18 different countries with the new song.
(Please support Samaritanmag's original journalism by making a PayPal contribution using the email info@samaritanmag.com so we can increase the amount of content and writers we hire. Samaritanmag is the anti-tabloid, covering good people trying to change bad things. Let's make this thing bigger than TMZ.)
Jordan Ανδρικά • Summer SALE έως -50%