There were some basketball champions on the court in Toronto yesterday, but they weren't the National Basketball Association players congregating at the Air Canada Centre for the league's 2016 All-Star Game this weekend.
Instead, Bruce Bowen, retired three-time NBA champ with the San Antonio Spurs, and Ruth Riley, a two-time Women's National Basketball Association champ and Olympic gold medal winner, were surrounded by dozens of enthusiastic grade seven and eight students from local midtown Toronto grade schools who were taking part in the NBA Fit All-Star Celebration happening at North Toronto Collegiate Institute (NTCI).
The fitness clinics focused on the importance of healthy living, while also teaching students basketball fundamentals, with the kids executing various skills as Bowen, Riley and a collection of NTCI student-coaches coaxed them on.
"We're here to get the kids going for this wonderful event we got going on for the first time in Toronto," Bowen told Samaritanmag. "And I think one good way to get kids involved is to get out there with them. Show them how important it is to live a healthier lifestyle, exercise and the way that we put things in our body that we're able to use to get through the day — fruits and veggies, drink a lot of water, all those wonderful things.
"Getting kids off their cellphones today. That's the biggest issue. If we can get them doing something that's extracurricular and moves the body, that helps in the process of them moving forward."
"It's teaching about taking care of their bodies," added Riley. "Events like this inspire an entire generation to be healthier."
It certainly wasn't lost on the educators how meaningful the opportunity to get on the floor with real basketball champions might be for students.
"It's about raising awareness in terms of fitness," said Sandra Tondat, a Toronto District School Board superintendent for area schools. "Certainly the hope is an experience like this will raise the awareness and get them involved in fitness."
The educators are also aware of the many benefits fitness can provide.
"In the school, we offer both inter-school and inter-mural athletics," Joel Gorenkoff, principal of the host school North Toronto, said.  "And I think being part of a team is a really neat experience. We've got very large teams and you learn camaraderie, you learn leadership. I think that's a big carrot. And they get competition. They get to go around the city playing other teams. They gain skills, they get to work with a variety of coaches and they get experiences like this. So it's a neat experience."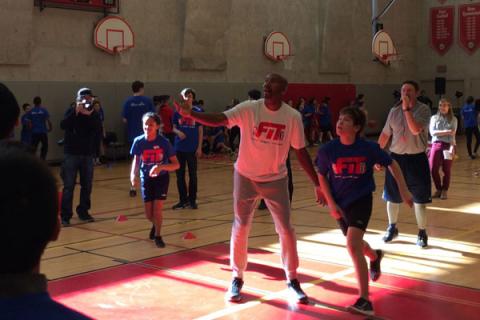 With the 2016 National Basketball Association's all-star game taking place in Toronto,  it brought with it elite athletes, high-profile celebrities, glitzy parties and endless Drake sightings. It's also shone a light on a number of well-intentioned initiatives like the NBA Fit program. Under the banner of NBA Cares, the league also hosted nine other similar NBA Fit clinics in high schools across the city on Feb. 11.
The league has also planned events like the Jr. NBA Day at the Enercare Centre, which promotes "opportunities for kids to forge new friendships and learn essential life skills through the game of basketball." In a partnership with the Daily Bread Food Bank the NBA will help sort and repack 110,000 pounds of food for 30,000 Canadians in need. Additionally, the NBA will host the NBA Cares Special Olympics Unified Basketball Game & Clinic, will partner with The Children's Wish Foundation of Canada and Make-A-Wish for events and has partnered with youth-opportunity group The Remix Project for events.
The 2016 NBA All-Star Game takes place Sunday, Feb. 14 at Toronto's Air Canada Centre.
THE SNEAKER BULLETIN