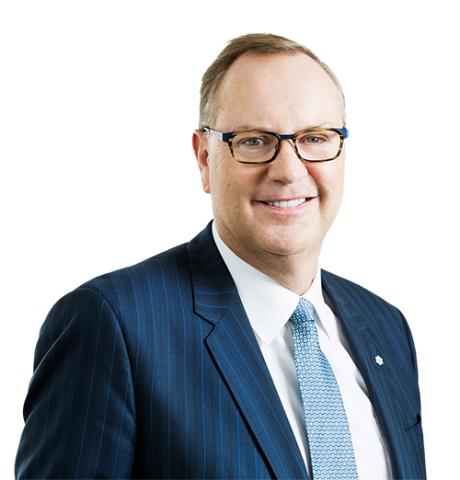 The annual Bell Let's Talk Day, a campaign fronted by communications giant Bell Media to promote awareness and understanding and reduce the stigma around mental health issues is today (Jan. 30), but behind the scenes it's more than just a one-day campaign.
Naysayers, quite vocal on social media, believe it's bogus or only a corporate PR move, but when Bell launched Let's Talk in 2010, it was in part because Bell Inc. and Bell Canada president and CEO George Cope had recognized that mental health services in Canada were underfunded and negatively stigmatized. Cope's mother had suffered from mental illness and was one of his inspirations for the campaign.
Cope took his personal connection to create a program of best practices in dealing with employee mental health issues at Bell. He also pledged $50 million dollars over five years to various mental health initiatives and organizations, then another $50 million.
A search filter on "the impact" page for where the funds go displays an extensive list of recipients (by year, region, type).
Rarely interviewed about Bell's commitment to mental health (Samaritanmag has tried), in an early interview with The Globe & Mail in 2010, he told the newspaper, "What we've tried to do is come out and talk quite openly about it. My mother was quite open about me mentioning that she has suffered from mental illness in the past. She was really supportive of seeing Bell take these actions, but also recognized that if what we do helps one Canadian, that's a venture worth pursuing from her perspective."
In terms of the general public's involvement and engagement, Bell Let's Talk Day is built around Canadians performing a number of simple interactions from tweeting to text messaging, to raise awareness, with Bell Media dedicating five cents from every one of these interactions that day towards mental health services. These interactions include:
* Every mobile and every long distance call made by Bell wireless and phone customers
* Every text message sent by Bell wireless customers
* Every tweet and retweet using #BellLetsTalk
* Every view of the Bell Let's Talk Day video on Facebook and use of the Bell Let's Talk frame
* Every Bell Let's Talk Day video view on Instagram
* Every use of the Bell Let's Talk filter and video view on Snapchat
According to Bell Media, between 2010 and 2018 Let's Talk day generated 867,449,649 events and raised 93 millon ($93,423,628.80 to be exact), including $7 million ($6,919,199.75) generated last year. One of Bell's goals in 2019 is to break the $100 million all-time donation mark.
"Bell Let's Talk Day is built on your engagement in the mental health conversation and millions of people across Canada and around the world have taken up the cause each year," said Mary Deacon, chair of Bell Let's Talk, in a statement.
"Your participation drives both awareness and action, as Bell commits its new funding for mental health based on the volume of Bell Let's Talk Day engagement. It's been an incredible outpouring of support for those who struggle with mental illness over the last eight years, and we're now ready to break a billion total messages. I invite you to add your voice to the conversation on January 30 to get us there – and help drive Bell's total donations to Canadian mental health programs past $100 million at no cost to you!"
Bell Media has identified four key areas for their funding — improving access to mental health services, supporting research, improving workplace mental health, and fighting stigmas related to mental illness — and provide monies to various organizations and programs across the country in the form of major gifts and community grants.
Last year Bell Media provided $500,000 to the Institut universitaire en santé mentale de Montréal Foundation (FIUSMM) to develop apps and mobile support applications, $1 million to the Mental Health Commission of Canada to develop programs to support post-secondary students, $400,000 to the Montreal General Hospital Foundation to acquire a repetitive Transcranial Magnetic Stimulation (rTMS) device, and $150,000 to Ogijiita Pimatiswin Kinamatwin for Indigenous youth support services.
One of the other key ways Let's Talk funds get distributed is through the Bell Let's Talk Community Fund. Registered Canadian charities are eligible to apply for Let's Talk funds to provide services which meet the following criteria:
* Leverage, expand or replicate proven programs and services already being offered by other mental health agencies
* Have clear objectives and a measurement plan
* Are evidence-based or evidence-informed
* Include a detailed budget and have secured funding from other sources for the project
* Specifically address project sustainability post-funding
* Identify community impact and specify the number or increased number of individuals helped through the project
The grants are given out on one-year terms and the deadline to apply for the next round of funding is March 15, 2019. A small sample of the 2018 funding recipients include Camp Winston, a summer camp in the Muskokas that works with children with obsessive compulsive disorder and other anxiety disorders, Eating Disorders Nova Scotia, which used their grant to create 12-week online group therapy sessions, and FortWhyte Farms in Winnipeg, MB, which teaches food literacy skills and employment training to urban youth experiencing employment difficulties.
"Every manager at Bell Canada has been trained in mental health issues," said Cope at the National Standard for Psychological Health and Safety in Canadian Workplaces launch in 2013. "We hold conferences, information sessions, lunch sessions, so all our employees understand how to deal with this issue, which is different than some other illnessess. We have committed to a program to help employees come back to work. Coming back to work from mental illness is a little different than other illnesses."
A substantial number of companies and organizations agree that Let's Talk is a venture worth pursing. High-profile partners in this year's Let's Talk campaign include sports teams like the Toronto Maple Leafs, Toronto Raptors, Ottawa Senators and Montreal Canadiens, film organizations like the Toronto International Film Festival, Hot Docs and Cineplex, music organizations like Festival d'été de Québec, Osheaga and Spotify, and social media services like Twitter, Instagram and Facebook. According to Bell Media, more than 200 Canadian university and college campuses will be holding athletic events this year to support mental health initiatives.
"Everyone's engagement in mental health is crucial to making progress, and we can all join the conversation on Bell Let's Talk Day by sending messages of support to fight the stigma, call for action and directly drive Bell's funding for mental health programs. We're grateful to these leading organizations for encouraging everyone to get engaged in the mental health cause and make sure our voices are heard on what promises to be the biggest Bell Let's Talk Day ever," added Deacon in a statement.
Watch Bell Let's Talk Day's 2019 trailer
Air Jordan