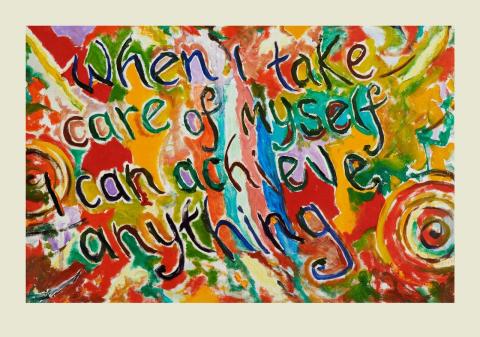 Rolling Stones guitarist Ronnie Wood is also an accomplished painter, and he's selling 500 signed prints of an inspirational work to raise funds for two related addiction treatment organizations.
The painting, titled Affirmation 1, features a variety of bright colours behind the words "When I take care of myself I can achieve anything."
The numbered and hand-signed prints are 39 centimetres by 55 centimetres and are selling for £399 (approximately $682 Canadian) here. Half of the proceeds will be donated to the two addiction treatment-related organizations.
Turn up for Recovery is a charitable movement aiming to: raise awareness of abstinence-based recovery; tackle the stigma of addiction; and help make treatment affordable to people struggling with alcohol and drug addiction. It was founded by Melia Clapton — the wife of singer, songwriter and guitarist Eric Clapton — in 2019.
Money raised by Turn up for Recovery goes towards helping people in need go through treatment at Crossroads Centre Antigua, which provides medical, physical and psychological support in a safe environment. Any surplus money is distributed between other abstinence-based recovery charities.
Crossroads Centre Antigua was founded by Eric Clapton in 1998. It uses a methodology rooted in total abstinence and uses the 12-step model as a tool for effective ongoing recovery. The program emphasizes group therapy and also includes individual counselling, cognitive behaviour therapy and physical fitness activities. The goal is to support the healing of individuals physically, psychologically, emotionally and spiritually.