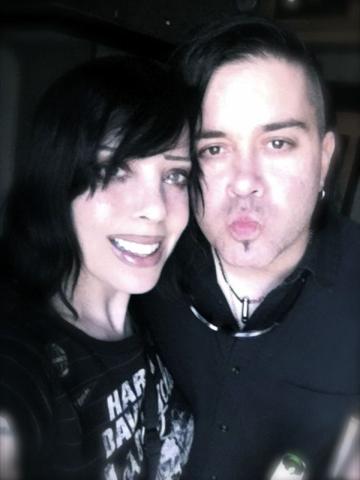 The jpeg photo Bif Naked sends of herself with Jacen "JD" Ekstrom has been saved as "Siblings." That speaks volumes about how the Canadian rock singer felt about her bandmate who died suddenly last November from an aortic dissection. This Thursday (Jan. 15), she is staging the Bif N' Friends For JD concert event to raise money for the Love For JD Fund.
All the proceeds from the concert, held at Deerfoot Inn & Casino in Calgary, will go to Ekstrom's family — his wife of 21 years, Jennifer; 13-year-old daughter, Jaelyn; and 21-year-old step-son, Jason.
Ekstrom lived out his dream as a musician. He was a guitarist, songwriter and producer, who toured Europe and North America on such tours as Korn's Family Values and Warped Tour.
"JD was such a lovely person," Bif tells Samaritanmag. "He was gregarious and warm, funny and conscientiousness, a devoted husband and father, and a loyal and good friend to all. JD was my accompanist and guitar player, and dear friend, since he started playing with me in 2009.
"He was in Neurosonic with Jason Darr, and I was lucky to have the opportunity to work with him after Neurosonic disbanded. I loved playing with him and he was, essentially, my big brother. I loved him immeasurably. He introduced me to his best friend, with whom he grew up in Cranbrook, BC, Snake, who became my boyfriend. The loss has devastated us all.
"We had a show at Vancouver's Hard Rock Casino and it was the first show without JD," she continues. "I cried almost the whole show, but ultimately it was very healing, and I am rejoined with Doug Fury, again, my original guitar player, who very respectfully filled-in for our fallen bandmate."
The YouCaring page, Love For JD, was originally set up by his family after he was rushed into the operating room on Oct. 28. An Aortic dissection is a serious condition in which there is a tear in the wall of the major artery carrying blood out of the heart.
Ekstrom underwent 12 hours of surgery with 10 percent chance of survival. He made it through and underwent another surgery to remove a blood clot. His kidneys, liver and heart were severely damaged.  At this point the fundraising page was set up. They hoped to raise $5000 but 222 supporters came forward to raise $17, 631.
"If you can offer financial support to this young family, please do," it read. "Despite 15 years at the Keg, JD does not qualify for short or long term disability. We are dealing with many uncertainties — if we can lessen the financial burden, let's do so. The funds will be used by Jennifer to cover mortgage payments, pay bills and cover other living expenses."
On Nov. 7, Ekstrom passed away. He was 42.
Bif — who lived in France for much of last year, where she finished her autobiography, and will return this year — is also the new ambassador for AIDS Vancouver and put her name to Raise The Rates, a coalition of people concerned with the level of poverty and homelessness in British Columbia. 
She says she is writing a new rock album, but has a new pop single coming out this month. In November, she released a beat-based charity single called "Intellectual," with all the proceeds going to AIDS Vancouver.
Gifts for Runners