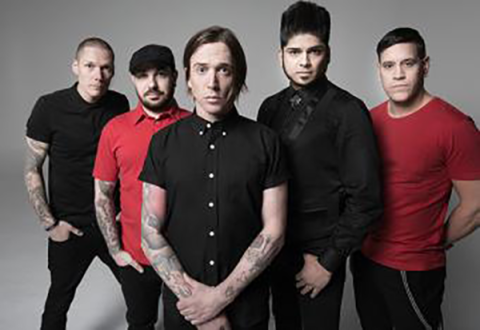 Toronto rock band Billy Talent will host a benefit concert Aug. 11 at Danforth Music Hall just blocks away from where the recent tragic shooting in Greektown by a lone gunman killed two and injured 13.   
"In an effort to support the local community that has been devastated by these events, the concert will be held at The Danforth Music Hall…during the Taste of the Danforth festival," the press release states.
Tickets for The Billy Talent and Friends TOronto TOgether concert — which also features appearances from City and Colour, PUP, and others — go on sale tomorrow (Aug. 1) at 10 a.m. here, for $50 (no extra fees).
All proceeds will be donated to support the victims of this shooting, via the #TORONTOSTRONG Fund, which was initially set up by the City of Toronto and the Toronto Foundation for the victims of the April van attack that killed 10 and injured 16.
That fund has raised $3.5 million to date, according to the site, and will close Aug. 31 with final disbursements made by Sept. 30.  A second fund has been set up "to provide direct support to the victims of the Danforth shooting," it reads. There are two donation tabs on the main site.
On July 22,  Faisal Hussain, 29, fired indiscriminately while walking along Danforth, striking 15 people. Eighteen-year-old Reese Fallon and 10-year-old Julianna Kozis were killed. Hussain took his own life.
"We write this with a broken heart," reads a collective statement from Billy Talent frontman Ben Kowalewicz, drummers Aaron Solowoniuk and Jordan Hastings, guitarist Ian D'Sa, and bassist Jonathan Gallant.
"What has happened in Toronto this summer and with what happened on the Danforth a few blocks from our studio, has not only hit close to home, this HAS hit home. All we know is that we can't just sit here. We don't know what we want but we want to do something. We want to throw a concert to show the world and more importantly our community that Toronto is a place of love, of community, of kindness and compassion.
"The violence that has happened here this summer does not represent the majority," it continues. "This city is one of the best places in the world and we have to stand up and band together. Let's raise money for the victims and their families. Let's get the artists and people of the city to stand together. While none of us have all the answers we feel we need to make a start. We need to help, but let's fucking do something TOGETHER. Let's get the powers that be TOGETHER. Let's do something special for our city and all the amazing people that live here and deserve to be celebrated."
Billy Talent has long given back to various causes from War Child to Multiple Sclerosis Society of Canada and MusiCounts, and recently founded The Billy Talent Charity Trust to raise funds and awareness for various charities helping youth.  
(Support Samaritanmag's original journalism by making a PayPal contribution to info@samaritanmag.com so we can increase the amount of content and writers we hire. Samaritanmag is the anti-tabloid, covering good people trying to change bad things)
Zapatillas de baloncesto Nik