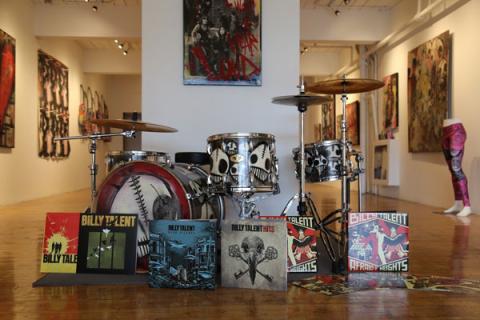 Billy Talent drummer Aaron Solowoniuk is auctioning off his drum kit to help support charitable multiple sclerosis (MS) related causes.
The Canadian rock band's long-time drummer put the uniquely painted Pearl brand Vision SST all-maple drum kit up for auction on eBay on Nov. 1 with the auction ending Friday, Nov. 11. Bidding on the kit is currently at $2,025 U.S. ($2,706 Canadian). Proceeds from the sale of the drums will go towards F.U. MS and the MS Society of Canada.
"Pearl Drums has been so kind to donate this Vision SST all maple drum kit," wrote Solowoniuk in the eBay description for the drums. "This kit has been showcased at the 906 art show at Nuvango Gallery in the month of Oct. It will be on display at different locations around Toronto while this auction is on. Stu from Playdead has been creating art in Toronto for over 25 years. His painting style has turned this into a one of a kind set of drums. I played this kit at RiotFest in Toronto and Heavy Montreal.
"Along with the purchase of the drum kit the winning bidder also gets a copy of every Billy Talent album on vinyl from our catalogue."
The total package will include a kick drum, rack toms, floor tom, snare, kick drum pedal, hi-hat stand and snare drum stand.
"All money raised from this kit will go to help set up youth programs through the MS Society of Canada," adds Solowoniuk.
F.U. MS is the banner Solowoniuk, who was diagnosed with MS in 1998, has been using for the many concerts, events and related charity initiatives he's undertaken over the years. Solowoniuk is currently on hiatus from actively performing with the band due to the side-effects of MS. Alexisonfire's Jordan Hastings has been standing in on his behalf.
The MS Society of Canada was founded in 1948 and provides services for people with MS and their families. The organization's two-pronged mission is to find a cure for multiple sclerosis and to enhance the quality of life for people who have MS.
Bidding on the kit isn't the only way Billy Talent enthusiasts can be helpful. The band recently revealed that $1 of every ticket sold for their February 2017 cross-Canada tour will go towards F.U. MS.
nike mens air prestige iii 3 low grade gold coins