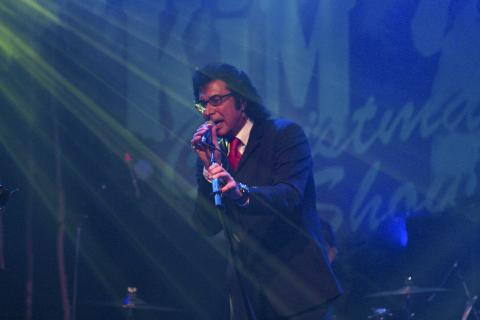 Andy Kim is again bringing together his favorite musical friends in December to perform as part of his Andy Kim Christmas Show to support is the Centre for Addiction and Mental Health (CAMH)'s Gifts of Light, which provides Christmas gifts to the hospital's patients with mental illness and addiction problems.
Kim — who will be inducted into Canada's Walk of Fame in December — will host his signature fundraising event at the Toronto's Queen Elizabeth Theatre on Dec. 5, with Broken Social Scene, Billy Talent, Ron Sexsmith, Bif Naked, Hayden, Mary Margaret O'Hara and Theo Tams.
Tickets for the all-ages, seated, event range from $52.50 to $150 (plus service charges), available from Ticketmaster.
The "Rock Me Gently" singer in a statement said this year's Andy Kim Christmas Show is his 14th and coincides with an important anniversay year for him when he was just a teenager.
"Number 14. 50 years ago 'How'd We Ever Get This Way?' became my first hit record around the world and I couldn't imagine how my life would change," Kim said. "I was given the opportunity to live a lucky and blessed life. A lot may have changed in 50 years, but the one thing that hasn't changed is the need to help people who are in trouble and can't help themselves. CAMH 'Gifts of Light' has found a way to help everyone who asks for help."
CAMH is Canada's largest mental health and addiction hospital. Gifts of Light is a program there that provides a host of Christmas gifts, some suggested on the CAMH website, to the hospital patients, some of whom have only been in care for days, or in the case of others for some years.  CAMH has no on-site gift shop, like other hosopitals,  because, sadly, there is little need. Many of the patients are ostracized from family and don't get visitors.  Gifts —  from winter woolies and pyjamas and slippers to pet therapy and dental check-up — can be purchased on the web site and will be distrbuted to the patients around the holiday season.
"I was given the opportunity to live a lucky and blessed life. All ticket proceeds from this year's Andy Kim Christmas will go to 'Gifts of Light', and I'm honoured to help those who need the help," Kim said of his effort to make a difference for mental health and addiction patients.
Past performers at the Andy Kim Christmas Show include The Sheepdogs, Nelly Furtado, The Strumbellas, Sloan, Tom Cochrane, Cowboy Junkies, Barenaked Ladies, he Trews. Feist, Amy Milan, Sam Roberts, Lights, Maestro, Alex Lifeson from Rush, Serena Ryder, Colin James and Sarah Harmer.
Kim —  known for co-writing the Archies' cartoon band 1969 hit song "Sugar Sugar " — is a member of Songwriters Hall of Fame and the Canadian Music Hall Of Fame.
Air Max