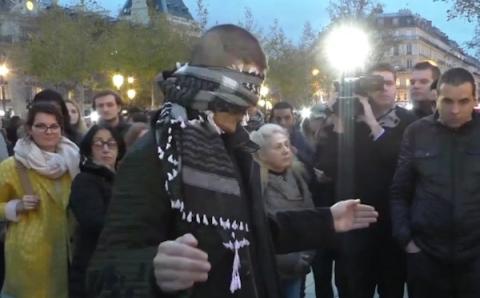 Many people have been wrestling with how they should conduct themselves in the wake of the terror attacks in Paris, France that left 130 dead on Nov. 13. For one man, who identified himself as a Muslim, it was hugs.
Seen in a video published by Ruptly on Nov. 17 under the title "France: Blindfolded Muslim man hugs mourners in Paris," a blindfolded man in Paris' Republic Square simply stands still with his arms wide open, accepting hugs.
Beneath the man's feet was a handmade cardboard sign on which was written, translated from French, "I trust you, do you trust me? So hug me!"
The two minute 14 second video which has now received more than 185,000 views shows numerous people taking up the challenge and hugging him. The video ends when French security officials intervene and make him stop.
The comments below the video were, predictably perhaps, divided.
"No i dont trust you," wrote a user named Zevvy.
"I'm a Christian & would hug him. This made me cry :( ," said another user named teena333.
This is far from the only example of Muslim outreach. In late January of this year, a Toronto group created the "Blind Trust Project," a YouTube video featuring Muslim man doing something very similar — standing blindfolded in a busy intersection asking for hugs. The video now has more than 2.6 million views. Additionally, in 2013 three New York teenagers Adam Saleh, Sheikh Akbar and Abdullah Ghuman started a "Meet A Muslim" campaign on their TrueStoryASA Youtube channel to show they're just like any other trio of average teenagers.
Watch the video:

Běžecké tretry Nike