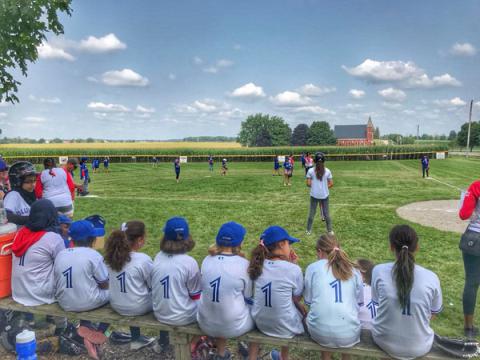 The Toronto Blue Jays baseball club will once again be letting fans peek behind the curtain with its Winter Fest event happening Jan. 19 and 20 at the Rogers Centre.
A massive community outreach event taking place at the Jays' home stadium the Rogers Centre, Winter Fest features autograph sessions, various player and alumni appearances, Jr. Jays activations, live entertainment, historic memorabilia, baseball-themed games, a Ferris wheel, a skating rink, catch and throw, batting radar cages, ballpark tours. Some proceeds from the event, including 50/50 raffle tickets and memorabilia sales, will go towards the Jays Care Foundation.
The charitable arm of the Blue Jays baseball club, Jays Care has been active since 1992, the year the team won their first World Series championship. Its goal is to "use baseball to teach life skills and create lasting social change for children and youth in marginalized communities across Canada." Jays Care estimates it impacts more than 65,000 children annually with its various programs.
Some of the initiatives Jays Care pursue include Home Run Scholars, a $1 million partnership with Pathways To Education to support students from under-resourced communities, the Jays Rookie League, which uses baseball to help children in communities with opportunity gaps to experience the game, the Field Of Dreams program that works with local charities to create safe community spaces to play baseball, the Challenger Baseball program, which helps children with cognitive and/or physical disabilities play adaptive versions of baseball, and Girls At Bat, a girls-only program designed to encourage girls to participate in the sport. Additionally, the Jays Care Community Clubhouse, a kid-friendly luxury suite at the Rogers Centre that hosts a number of charitable and community groups.
Now in its second year, the Jays' Winter Fest event has proven so popular it had to expand to two days. Prices for tickets are tiered as follows: adults ($20), youth & seniors ($5), 2019 Season Ticket Members ($10), and all 2019 Game Pack Members ($15).
(Please support Samaritanmag's original journalism by making a PayPal contribution or EMT transfer using  info@samaritanmag.com so we can increase the amount of content and writers we hire. Samaritanmag is the anti-tabloid, covering good people trying to change bad things. Let's make this thing bigger than TMZ.)/
Air Jordan 1