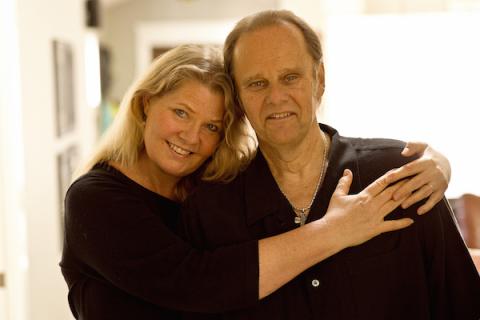 In 2014 elite blues guitarist Walter Trout almost died from the liver-destroying disease Hepatitis C.
If it wasn't for a life-saving liver transplant as well as some financial goodwill from fans who raised $250,000 ($339,175 CAD) his medical expenses Trout may not be here today. It's a fact the former guitarist for Canned Heat and sideman for John Lee Hooker and John Mayall's Bluesbreakers understands well. That's why Trout has become an official patron for the British Liver Trust to help raise awareness about liver related illnesses, encourage funding support and liver donor participation.
"Liver disease almost cost me my life," said Trout in a press release. "The disease progressively drained me of my life force until I was on the verge of death. A miraculous liver transplant allowed me to survive and thrive once again. I owe my life to the research and development in the medical field around treatment of liver diseases. I am happy to work with the British Liver Trust to promote awareness about the silent killer among us. I am thrilled because new treatments are emerging at the moment, and to help raise awareness around this, and to empower people to seek treatment, is something I feel privileged to do."
The British Liver Trust provides patient services for those with liver disease as well as supporting research initiatives and political advocacy. According to the Trust, liver disease is the fifth leading cause of death in the U.K.
"I am delighted that Walter Trout has agreed to support the British Liver Trust and become our patron," said Andrew Langford, Chief Executive of the British Liver Trust. "As Walter knows it is a silent killer and by the time that you have the symptoms it can often be too late."
Langford is also encouraging people to go to the Liver Trust's Love Your Liver health screener website to get a basic assessment of whether or not they may be at risk.
Trout, whose latest album Battle Scars chronicles his liver failure fight, made his first post-transplant live appearance in July 2015 13 months after his operation, performing at the Royal Albert Hall for a Shooting Star Chase Children's Hospice Care charitable event. The musician also recently completed a U.K. tour in November to support the Trust.
Those who donate to the British Liver Trust can receive an exclusive download of Trout's song, "Move On."
Watch Trout perform at Royal Albert Hall after his successful liver transplant:
THE SNEAKER BULLETIN