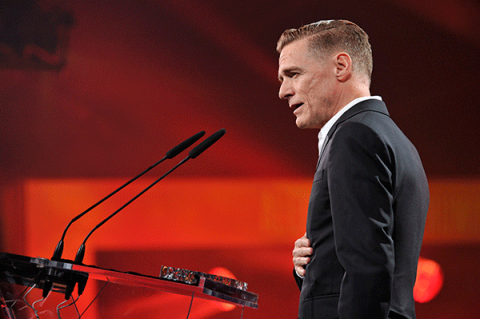 By all accounts, Bryan Adams is a little uncomfortable about accepting awards for his philanthropy and rarely does interviews about it.  He received the Allan Waters Humanitarian Award at the 2010 Juno Awards and yesterday, May 7, was honoured with the Allan Slaight Humanitarian Spirit Award at the Canadian Music & Broadcast Industry Awards in Toronto.
His charity work began in his mid-teens, before he launched a professional music career and went on to become one of the biggest selling artists in the world with sales of more than 65 million albums. He started volunteering with environmental protection organization Greenpeace in the 1970s, which had an office around the corner from his home in Kitsilano, a neighbourhood in Vancouver.
Following a video tribute, which highlighted Adams' lifelong charity work for a range of causes — famine, human rights, poverty, the environment, cancer, family farmers, children's hospitals, school builds, hearing disorders, wounded soldiers, animal rights, and more — Adams took the stage to accept the award.  He made a point to praise the many unsung heroes he has come across since he created The Bryan Adams Foundation in 2006, but also to recall some childhood memories where small acts of kindness helped his family and affected his perspective about giving.
"I just want to say a couple things here, and that is, giving back is not something that's exclusive to people who have become successful," he began.
"Working as I have with my foundation, I've met hundreds of people who dedicate their lives to improving the lives of others, and ask for nothing in return. It's those selfless, unrecognized, people that get little or no thanks, and I get an award such as this…"
He briefly detoured from the topic to thank the radio programmers and deejays in the room that helped launch his career by playing his songs, including Gary Slaight, who presented him with the Allan Slaight Humanitarian Spirit Award, named after his father who built Standard Broadcasting. The company was sold in 2007 for over $1 billion and the Slaight Family Foundation was created (disclosure: the Slaight Family Foundation supports Samaritanmag).
"As I mentioned in that little film clip, I'll never be able to compare my little foundation to the likes of any of the other great family foundations, so why bother? Why bother connecting with people all over the world on such a small scale? And it's because I discovered early on that — and I'm reminded as I watched that film about it — that lending my name to a cause, no matter how small, can sometimes become something much larger," Adams said.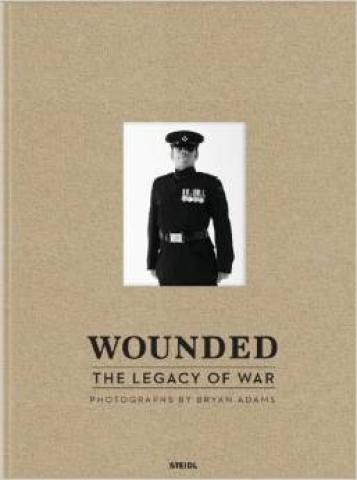 "This happened recently with this book of photographs I made of wounded British veterans that came back from Iraq and Afghanistan. The book is called Wounded: The Legacy of War, and it's about as close to the battlefield as many of us will ever get. I wanted to bring the human aspect of these veterans to light, not covered up like they do on the news. I wanted it to be something real so that we could see what happens when we decide to take up arms against another group of people.
"Supporting the wounded, and making sure that they're not forgotten, became the most recent focus for my Foundation. And lending my name to it raised awareness and, ultimately, a lot of money. It may not be possible to ever change the world, but you may be able to make it a little better for someone.
"And that's the point," he said. "When I think back to some of the small generosities that were bestowed on me as a young man, they impacted me so deeply that I never forgot them, and I'll give you a couple of examples. When I was living in Ottawa my soccer coach — I was about 13 — kept barking at me to go and get a good pair of soccer boots and I never did because I couldn't afford them, and one day he showed up with a pair of proper shoes. And the other example is also in Ottawa when the Lions Club showed up at Christmas and gave our family Christmas dinner when we couldn't afford it. Those people may never have been recognized for their benevolence, but they achieved something perhaps far greater in that they changed how I saw things," he concluded.
The Bryan Adams Foundation's motto is Helping People Help People.
"The Foundation aims to improve the quality of people's lives around the world by providing financial help and support to those people who are committed to bettering the lives of other people, by providing grants to finance specific projects," it states on its web site.
"The Foundation seeks to protect the most vulnerable or disadvantaged individuals in society. It aims particularly to advance education and learning opportunities for children and young people worldwide, believing that an education is the best gift that a child can be given. The Foundation's area of support is, however, broad and far-reaching, enabling grants to be given to all sorts of fields around the world, particularly to do with education and children in need."
Nike