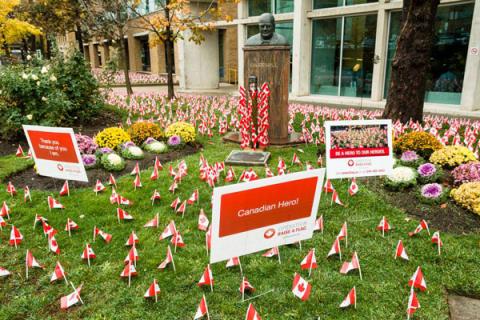 The poppies that people all across Canada wear leading up to Remembrance Day aren't the only way Canadians can support their veterans.
Operation Raise A Flag, an initiative of Toronto's Sunnybrook Hospital, is a fundraising campaign to support the 473 veterans in the Sunnybrook Veterans Centre, the largest veterans care facility in Canada. The campaign involves purchasing small Canadian flags, which cost $25 for one, up to $100 to purchase seven. These flags then get placed all across the Sunnybrook grounds. This year 30,000 flags were placed around the facility. Additionally, the flag purchasers have the option of sending the veterans a message of support for their service for the country.
Sunnybrook has had a long, storied history supporting Canada's veterans. The facility was originally opened in 1948 to support war vets and now provides cognitive, physical, mental health and stroke care for Canadian veterans who served in the Second World War and Korean War.
The money from Operation Raise A Flag goes towards programs that enrich the veterans lives.
"Operation Raise a Flag is about sending messages of thanks to our veterans and supports Veterans Programs like our Veterans Comfort Fund," says the Raise A Flag website. "This fund helps ensure our resident heroes enjoy the best possible life experience by providing innovative equipment, continued learning opportunities, special outings and events, along with various social and arts activities to enhance their quality of life."
The profiles of some of the veterans in Sunnybrook's care are included on the Operation Raise A Flag website. They include, amongst others, Murray Westgate, a telegraphist for the Royal Canadian Navy who ended up becoming well known as the Imperial Oil pitchman who appeared on Hockey Night In Canada's Hot Stove Lounge in an Esso uniform over 16 seasons. Walter Metcalfe, who joined the Royal Canadian Air Force at 18 and flew in both the Second World War and the Korean War, and John Bennett, an army infantry camouflage officer, who turned to a career in painting after the war and has created over 7,000 works in his life.
Some of the resources these veterans receive end up magnifying themselves to support those around them.
Mary Prescott, a veteran of the Canadian Women's Army Corp who was part of the Canadian Army Show which entertained troops in England, Holland, Belgium and Germany, uses the music therapy program to entertain fellow residents.
"It's about my health now and music therapy is good for my mental, physical, and emotional health," says Prescott on the Raise A Flag website. "Fortunately, I was able to bring my organ here with me. I love to play for the other residents on my unit."
Watch a video about the Operation Raise A Flag campaign

Nike