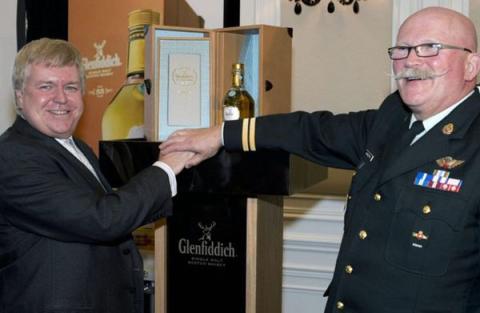 A bottle of booze has netted tens of thousands of dollars for WoundedWarriors.ca, which helps Canadian Forces members who have been wounded or injured in their service to Canada since 1990.
The 55-year-old bottle of Glenfiddich Janet Sheed Roberts Reserve — one of the world's 11 bottles — set a new Canadian record when it sold for $52,000 at auction in Toronto Oct. 19.
The rare scotch was produced by William Grant & Sons to recognize the long life and contributions Scotland's Janet Sheed Roberts made to her family's distillery. The single malt bearing her name marked her 110th birthday in August 2011 — one bottle for each decade of her life.
In April of this year, she passed away in Moray, just a few miles from Dufftown, where the distillery her grandfather founded in 1887 is still based.
"I'm truly overwhelmed with the level of support we've received from the William Grant & Sons family distillery through this auction and beyond," said WoundedWarriors.ca founder Captain Wayne Johnston in a statement. "Every penny from this bottle's auction will go towards wounded Canadian soldiers and their families and I'm thrilled that the Grant's family has chosen to help."         
The Glenfiddich Janet Sheed Roberts Reserve was the first item up for bid on the first day of Vintages 11th annual auction held in the Grand Ballroom of the Trump International Hotel & Tower.
It was bought by a couple from Etobicoke, Ont.  Dave and Laurie (last name undisclosed) are reportedly scotch aficionados and Wounded Warriors is dear to their heart because they have close family members who served in World War II, according to the press release issued by the charity.
According to Wounded Warriors' mission, "We help find solutions for current and former members of the Canadian Forces where gaps have left them in need. While providing programs to all members of the Canadian Forces who have been wounded or injured, our primary focus is on reservist mental health.  Our secondary focus is on physical health support, and tertiary focus is on life skills development for all members of the Canadian Forces who have been wounded or injured."
Roberts' great-niece, Sally Gordon Woof, was on-hand to witness the sale of the seventh bottle at auction. All 11 bottles are being auctioned globally to benefit various charity, including Walking With The Wounded and WaterAid. To date, the Janet Sheed Roberts Reserve has raised a total of $393,839.25.
"Wee Janie (Janet Sheed Roberts) and this honorary Scotch are dear to me and my family. It's a privilege to see her continued contributions here in Canada," Woof said in a statement. "William Grant & Sons has many Canadian connections; with the auction of the Janet Sheed Roberts Reserve, we now have another."
Sneakers