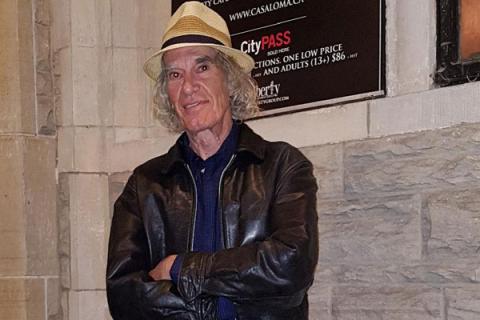 The Canadian music community is rallying to support veteran music journalist and editor Lenny Stoute as he faces an ongoing series of health issues.
Stoute, who has interviewed everyone from Bob Seger to Keith Richards to Tim Curry, has written for the likes of the Toronto Star, The Globe & Mail, Eye Weekly and Metro, in addition to editing the defunct Music Express magazine.
Two fundraising initiatives are currently taking place to help Stoute. A Benefit For Lenny Stoute, on Thursday, March 28 at Toronto's Horseshoe Tavern, will feature a reunion of the alt party jazz weirdoes the Look People as well as Big Rude Jake, Kim Doolittle and a number of other acts. A separate GoFundMe page outlining Stoute's continuing health issues has also been established. It has currently raised $3,960 of its $35,000 goal.
Stoute has been experiencing a persistent, as-yet-still-unsuccessfully diagnosed host of health issues including constant chronic pain, severely restricted mobility on the left side of his body and no feeling in his left foot. These health issues, which started two years ago, have sent Stoute to six different spinal neurologists and one neurosurgeon. According to Stoute, he had been misdiagnosed as having spinal stenosis, a condition caused by the narrowing of space in the spine around the spinal cord and nerves. He's hoping a consultation with a new expert in April will help find a diagnosis for his pain.
"Walking is literally a breath-taking experience as my every move must be calculated for fear of a worse calamity, like a serious fall," wrote Stoute on the GoFundMe page. "In saying this I have fallen on 3 separate occasions in the past 6 months as I have no feeling in my left foot which severely compromises my ability to stand safely, lift myself up from sitting, bending or walking. Putting on shoes or boots is a chore in itself, I might add.  Sitting isn't much better and can only be done at best half an hour at a time. An energy bleeding experience for someone who spends so much time sitting at a computer."
The money raised for him will be used for a number of health-related costs, including: relocation to a new residence more suitable for his mobility concerns; assistance in paying medication expenses not covered by OHIP, including physiotherapy, acupuncture and some paramedic costs; transportation support to get to medical appointments; and home worker support and counselling and rehabilitation support.
Watch Lenny Stoute's interview with Look People's Jaymz Bee
First Look: Nike Air Max 270 "Pre-Day"