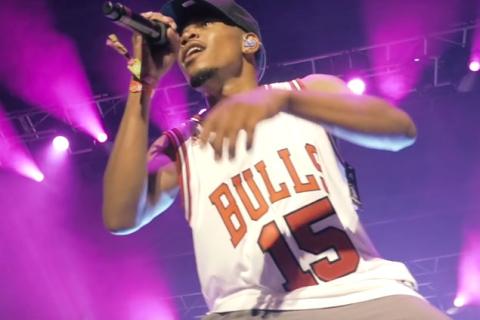 Pinned to the top of Chance the Rapper's Twitter account is a photo of a coat that turns into a sleeping bag.
"This coat turns into a sleeping bag for homeless. Homeless are hired to make the coats," Chance's tweet reads followed by a link to Warmest Winter Chicago.
The Chicago-bred rapper and creator of 2013's breakout Acid Rap mixtape has teamed up with Warmest Winter Chicago to bring 1,000 of these innovative "empowerment plan" winter coat to the city's homeless citizens and he's asking for donations — until Jan. 13 — to help fund the campaign.
The coats/sleeping bags — a water-resistant and self-heating jacket made in part using upcycled automotive insulation — are built by The Empowerment Plan, a not-for-profit Detroit-based company. They hire homeless parents from local shelters to become full-time seamstresses in order for them to earn a stable income, find secure housing, and help break the cycle of poverty and homelessness. It costs $100 to sponsor a coat, which covers the cost of labor, materials and overhead expenses.
Veronika Scott, the CEO and founder of The Empowerment Plan started the company based on a challenge/school assignment she received in college to "build something that fills actual needs." She created the winter coat that converted into a sleeping bag.
Designing a helpful coat, though, Scott realized wasn't enough.
"I was talking to the homeless people in that area, getting feedback and making prototype after prototype. When I was on like prototype number seven a woman came out of the shelter that I was in and she was yelling at me," said Scott in a promotional video. "And she was full-on screaming, 'We don't need coats! Coats are pointless! We need jobs!'"
"And really, she was completely right because a coat is just a band-aid for a systemic issue. And what really would have any impact is hiring the population that would need them in the first place."
So Scott did exactly that.
This coat turns into a sleeping bag for homeless. Homeless are hired to make the coats. https://t.co/43Is78SKRM pic.twitter.com/RVJiAJKtvX

— Chance The Rapper (@chancetherapper) December 17, 2015
Donating to the Warmest Winter Chicago cause has potential perks above and beyond just helping the city's homeless during the coldest season of the year.
Through a contest on the Crowdrise website donors will also receive the opportunity to win a number of Chicago-centric prizes. A $10 donation gets one entry to win either a pair of Chicago Bulls basketball tickets or Chicago White Sox baseball tickets, a $50 donation earns 10 entries to win the Bulls or White Sox tickets as well as one entry to win a pair of tickets to a Chance The Rapper show. If you're willing to donate $100 — the equivalent cost of one coat — you get 25 entries to win Bulls/White Sox tickets, five entries to go to a Chance The Rapper show, 1 entry to win a VIP meet-and-greet with Chance, as well as a Warmest Winter limited edition screen print poster.
Regardless of if donors win these prizes or not, a number of them have already received special bonuses. Chance The Rapper has been retweeting and interacting with people who've been promoting the campaign via their own Twitter accounts. Contest-eligible donations must be made by Jan. 13, 2016.
While these coats are much-needed, organizers say the ultimate partnership goal is to bring an Empowerment Plan factory to Chicago to complement the Detroit factory.
Watch Veronika Scott talk about The Empowerment Plan coat:
『アディダス』に分類された記事一覧