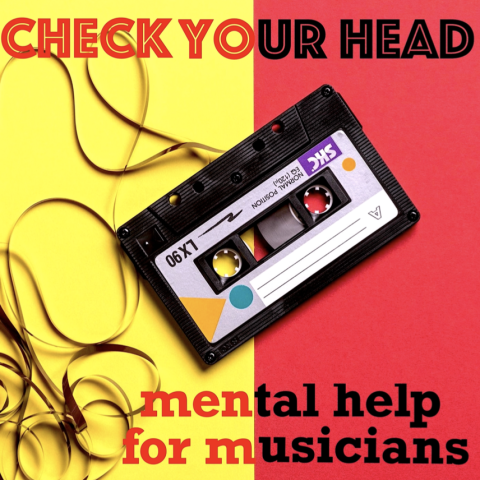 As part of Mental Health Awareness Month, Check Your Head: Mental Help for Musicians podcast has teamed up with MTV Entertainment Group, along with over 500 brands, nonprofits, government agencies and cultural leaders in supporting the first-ever Mental Health Action Day on May 20.
The announcement comes over one year into the COVID-19 global pandemic which has not only taken a toll on the physical health of people across the world but has also negatively impacted mental health.
According to the site, "Mental Health Action Day is an open-source movement of brands, organizations and cultural leaders to drive culture from mental health awareness to mental health action."  Its mission is "to encourage and empower people to take mental health action -- whether for themselves, for their loved ones or to advocate for systemic changes, because mental health is health." The day was planned with TaskForce, "a cultural organizing agency that builds capacity for those taking on the most pressing challenges facing our communities, our nation and our world."
Check Your Head was started back in 2019 by music journalist and certified life coach for musicians Mari Fong.  In the 23 episodes, to date, Fong has interviewed Gilby Clarke, Linda Ronstadt, Fred Armisen, Kevin Lyman, and more about mental health and wellbeing. Each episode features an appearance from a top mental health expert.
"Talking openly about and sharing your stories on mental health is only part of the solution," says Fong in a press statement. "The second part is taking action which can include taking action for yourself, for a loved one, or for your community. The Check Your Head odcast aims to do both by sharing stories and solutions for recovery from your favorite musicians and experts, while checkyourheadpodcast.com provides 100+ solutions to assist you in taking positive action.
"Good mental health is the feeling of joy, appreciation and contentment with our personal and professional lives," she adds. "It's such a delicate balance and one that needs to be an ongoing priority during these uncertain times."
On the Mental Health Action Day website is a list of activities that can help improve mental wellbeing, such as finding a therapist, starting a meditation practice, reaching out to friends, joining support programs, and checking in with yourself. More information how their 500-plus partners are supporting the cause is also on the site.
In her own statement MTV Entertainment Group's VP of social impact strategy Erika Soto said, "From COVID to economic struggles and the continuing fight for racial justice, the other half of the twin pandemic is the rise of our mental health challenges. This is a critical moment to shift our culture from mental health awareness to mental health action and MTV is proud to come together with diverse cross-sector leaders on this inaugural day to encourage and empower people to take action -- for themselves, for their loved ones or for the systemic changes needed to improve our social and emotional wellbeing."