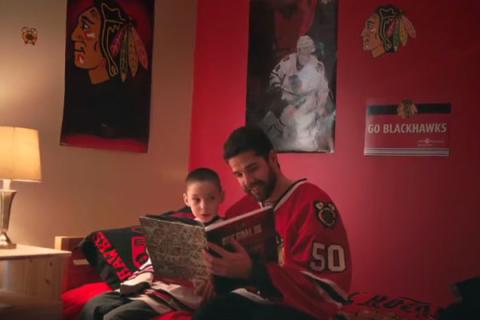 A Chicago area family that needed some babysitting help received assistance from a very unlikely source — members of the Chicago Blackhawks hockey team.
In a video posted on the team's website earlier today, Hawks goaltender and former all-star Corey Crawford visits home of a young boy named Ben with the express purpose of helping babysit. Ben was born with a condition that makes it very difficult to use his arms and legs and through the Blackhawks' #WhatsYourGoal community outreach Twitter campaign, his regular babysitter Emilie had asked if the Blackhawks could send her some help.
Ben is delighted when Crawford arrives.
"Corey?!" "Is that you?" Ben exclaims in the video before looking down at Crawford's legs, not seeing the player's signature protective gear, then asking "Where's your pads?"
From there Crawford and Ben take up a game of road hockey where, much like any bad babysitter would do, some uninvited friends show up in fellow Blackhawk players Teuvo Teravainen and mischief-maker Andrew Shaw.
Shaw, who's known for his chippy, competitive spirit, immediately accuses one of Ben's young friends of being "lippy."
Later, when Crawford is back inside making them all macaroni, Shaw asks Ben who his favourite player is, to which he responds with "Crawford."
"That's a surprise," says Shaw sarcastically before admonishing his teammate for being "stingy" in doling out the macaroni.
In short, it's exactly the sort of charming, fun and real interaction one would hope to be part of when surrounded by professional athletes.
Ben's visit is far from the first time the Blackhawks have done in their community with the #WhatsYourGoal campaign. The team, which has won three Stanley Cup championships in the last eight years, regularly sends players out to fulfill #WhatsYourGoal wishes.
When these visits get turned into videos they often go viral in the good way. In one video where Blackhawks star player Duncan Keith helps a wheelchair-bound young girl named Cammy both skate on ice and try to score a goal. That video has been viewed more than 19.4 million times on Facebook. In another video, fellow Blackhawk Brent Seabrook takes the Stanley Cup to the South Chicago area's Leo High School so the students can see it. That video has more than 200,000 views.
Clearly, the players' outreach has had a positive effect.
"Thank you for making my cousin Ben's dream come true," wrote Emily Munsie in one of the more than three thousand comments on the Blackhawks Facebook page about Ben's video. "My cousin has loved you for as long as I can remember! All he's ever wanted since watching you guys for the first time was to meet Corey Crawford. Ben is an absolute blessing to everyone he meets despite his disabilities. It makes me proud to know that I cheer for such a classy organization."
Watch Ben's #WhatsYourGoal video:
Jordan Ανδρικά • Summer SALE έως -50%