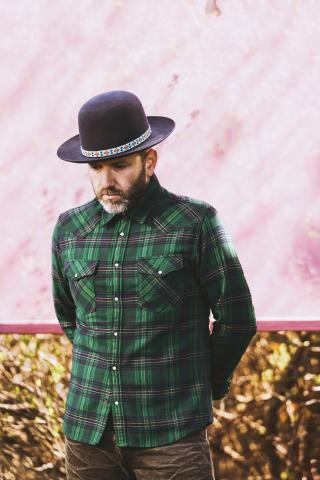 Dallas Green's City and Colour is back on the road in September through December and one dollar from every ticket sold will go to Indspire, a national Indigenous charity that invests in the education of First Nations, Inuit and Métis people.
The chartitable donation is through Plus 1, founded by former Arcade Fire member Marika Anthony-Shaw, which works with touring artists to select a charity to which one dollar from every concert ticket sold goes.
According to the City and Colour press release, to date, Green has donated over $80,000, to Indspire's Building Brighter Futures Scholarship program through the City and Colour Indigenous Student Bursary and the Alexisonfire Indigenous Music Bursary, which were established in 2019 with the goal of supporting students as they complete their education and achieve academic success.
City and Colour's tour begins Sept. 7 in Dallas, and includes five shows at the venerable Massey Hall in Toronto which is reopening after extensive renovations.
Over the course of six studio albums, Green has won 3 Juno Awards, and earned one triple-platinum, two double-platinum, one platinum, and one gold certification in Canada. His other band, Alexisonfire, has received four platinum certifications for their four albums. His last City and Colour album was 2019's A Pill For Loneliness.
2021 City and Colour U.S. Fall Tour Dates
September 7 - Dallas, TX - House of Blues
September 8 - Austin, TX - The Paramount Theatre
September 9 - Houston, TX - House of Blues
September 11 - San Antonio, TX - The Aztec Theater
September 13 - Phoenix, AZ - Orpheum Theatre
September 14 - San Diego, CA - The Balboa Theatre
September 15 - Santa Ana, CA - The Observatory
September 17 - Los Angeles, CA - The Orpheum Theatre
September 18 - Oakland, CA - Fox Theatre
September 20 - Seattle, WA - Paramount Theatre
September 22 - Portland, OR - Crystal Ballroom
September 25 - Boulder, CO - Bluebird Music Festival 
September 26 - Omaha, NE - Slowdown
September 27 - Chicago, IL - Thalia Hall
September 28 - Detroit, MI - The Fillmore
October 12 - Pittsburgh, PA - Roxian Theatre
October 13 - Washington, DC - Warner Theatre
October 15 - New York, NY - The Town Hall
October 16 - New York, NY - The Town Hall
October 17 - Philadelphia, PA - Keswick Theatre
October 18 - Red Bank, NJ - Count Basie Center for the Arts
October 20 - Northampton, MA - Calvin Theatre
October 22 - Kingston, NY - Ulster Performing Arts Center
October 23 - Boston, MA – The Orpheum Theatre
October 24 - Portland, ME - State Theatre
October 26 - Ithaca, NY - State Theatre of Ithaca
2021 Canadian Dates
November 12 - Vancouver, BC - Queen Elizabeth Theatre
November 16 - Victoria, BC - Royal Theatre
November 18 - Vernon, BC - Vernon Performing Arts Centre  
November 19 - Red Deer, AB - Red Deer Memorial Centre  
November 20 - Medicine Hat, AB - Esplanade Arts and Heritage Centre
November 22 - Calgary, AB - Southern Alberta Jubilee Auditorium
November 24 - Edmonton, AB - Northern Alberta Jubilee Auditorium
November 27 - Saskatoon, SK - TCU Place
November 28 - Regina, SK - Conexus Arts Centre
November 30 - Winnipeg, MB - Centennial Concert Hall
December 01 - Minneapolis, MN  - Fitzgerald Theatre
December 02 - Milwaukee, WI - Turner Hall Ballroom
December 04 - Montreal, QC - M Telus
December 05 - Montreal, QC - M Telus
December 09 - Toronto, ON - Massey Hall
December 10 - Toronto, ON - Massey Hall
December 11 - Toronto, ON - Massey Hall
December 12 - Toronto, ON - Massey Hall
December 14 - Toronto, ON - Massey Hall