On behalf of late beloved radio DJ Denis Grondin, his son, Goon actor Marc-Andre Grondin donated 28 musical instruments, worth $24,450, to Daniel-Johnson Secondary School in Montreal through the evenko foundation.
Evenko promotes all concerts at Montreal's Bell Centre and stages over 1,000 shows annually, as well as music festivals like Osheaga Music & Arts, Heavy Montreal and îleSoniq. The promoter also stages events in the sports, comedy, variety entertainment spaces.
Grondin died last year due to a sudden heart attack after a 45-year career as a radio station host at CHOM, CKOI and Radio VM, which included becoming a music programmer at Cogeco Media in 2011. Within hours of his death, his family, which includes his sons, the Quebec actors Marc-Andre and Mathieu Grondin, responded by urging anyone looking to honour Denis' memory to donate to the evenko foundation.
"It's with deep sadness, but also with great pride that we're asking you to be generous with the evenko foundation," the family said in a statement at the time.
The Montreal-based foundation, the charitable arm of Quebec concert promotion giant evenko, works to encourage young people to take up the performing arts by putting musical instruments into local public schools. To date, it has $360,000 worth of musical instruments into Quebec schools.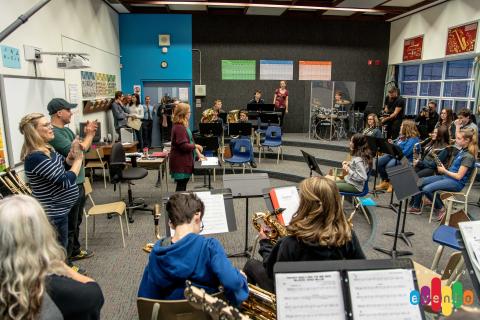 A year after their father's death, Marc-Andre Grondin, whose movie credits include Goon and C.R.A.Z.Y., was on hand at the Daniel-Johnson secondary school on Nov. 28 to share his father's love of music by handing over the musical instruments. They included clarinets, trumpets, saxophones, tubas and trombones.
"It's important to give youth the means to express themselves musically. The price of a drum set or a saxophone shouldn't stand in the way of creativity. Teaching a teenager to play an instrument in a band means teaching him sensibility, attentiveness and empathy," Marc-Andre Grondin said in a statement.
"We draw particular attention to the generosity of the artists and the devotion of the music teachers that inspire youth to discover and practice performing arts," Roman Oryschuk, chairman of the board at the evenko foundation, said in his own statement.
The evenko foundation supports secondary schools, aside from Daniel-Johnson, like Pointe-aux-Trembles, Dalbé-Viau, Georges-Vanier, Saint-Laurent, Cavelier-de-La Salle, Antoine-de-St-Exupéry and Père-Marquette by offering free singing, guitar and visual arts classes to at-risk young Montrealers, not least to keep them in school and encourage a brighter future.
(Please support Samaritanmag's original journalism by making a PayPal contribution or EMT transfer using  info@samaritanmag.com so we can increase the amount of content and writers we hire. Samaritanmag is the anti-tabloid, covering good people trying to change bad things. Let's make this thing bigger than TMZ.)
Air Jordan 1