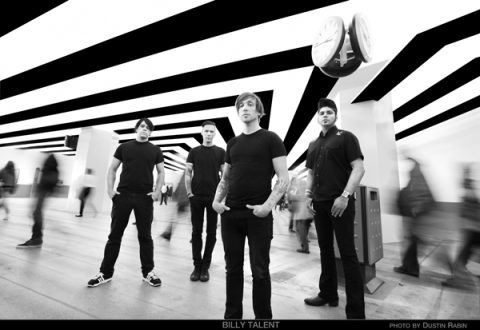 Samaritanmag.com is running a contest to meet multi-platinum-selling rockers Billy Talent at Riot Fest in Toronto at Downsview Park, on Saturday, Sept. 6, and of course watch the band perform and all the rest of the acts that day. See below to enter.
The members of Billy Talent — frontman Ben Kowalewicz, guitarist Ian D'Sa, drummer Aaron Solowoniuk and bassist Jon Gallant — support numerous causes, including Kids Help Phone, Make Music Matter, War Child, MusiCounts, Skate4Cancer and Solowoniuk's F.U.M.S. — and Samaritanmag has covered many of them.
"It's always nice to be asked questions about causes we support and important world issues rather than how long it takes me to do my hair," says D'Sa. "Samaritamag is a very welcome addition to music journalism."
Tickets are courtesy of Union Events and Riot Fest.  In addition to Billy Talent, other acts on the bill that first day are The Cure, Rise Against, The Flaming Lips, Death From Above 1979, Brand New, Paul Weller, Awolnation, Bring Me the Horizon, Taking Back Sunday, The Afghan Whigs, Alkaline Trio, Glassjaw, New Found Glory, Circa Survive and more.
The Contest ends on Sept. 1, 2014, at 1 p.m.