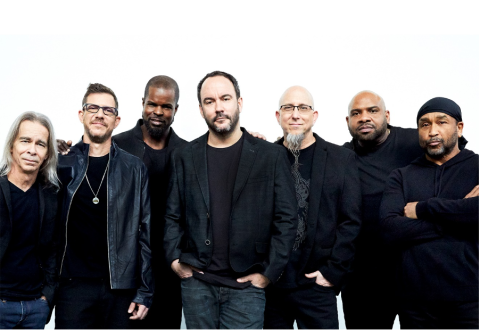 Dave Matthews Band is inviting fans to enter a contest to help plant trees around the globe through donations to The Nature Conservancy via The Bama Works Fund.
Having fully funded the planting of a million trees in 2020, Dave Matthews Band is on a mission to plant a million more in an effort to restore healthy forests, curb the effects of climate change, provide clean air and fresh drinking water, and secure homes for thousands of species of plants and animals.
The effort is in support of The Nature Conservancy's Plant a Billion Trees program, a forest restoration effort that will plant trees in the United States, Mexico, Brazil, Colombia, China, Kenya and Tanzania.
Donations of $10 (all figures U.S.) or more will earn entries into a contest to win two premium VIP tickets to see Dave Matthews Band at New York City's Madison Square Garden on Nov. 12 and 13, as well as a meet and greet with Matthews, hotel accommodations and round trip airfare. 
A $10 donation will earn 100 entries and help plant five trees. A $25 donation will earn $250 entries and help plant 12 trees. A $50 donation will earn 600 entries and help plant 25 trees. A $75 donation will earn 750 entries and help plant 37 trees. A $100 donation will earn 1,000 entries and help plant 50 trees. A $250 donation will earn 2,500 entries and help plant 125 trees. A $500 donation will earn 5,000 entries and help to plant 250 trees.
Dave Matthews Band fans looking to attend shows on its 2021 tour also have an option to add two dollars to their ticket price to plant a tree as part of the campaign. They can also learn more about the campaign by visiting the Eco-Village on each stop of the tour.
Dave Matthews Band, which was named a UN Environment Goodwill Ambassador in 2019, will also be neutralizing the biggest contributor to a concert's carbon footprint: fan travel.
On top of the band's own footprint, Reverb will be calculating the carbon footprint associated with fan travel to shows this year. Dave Matthews Band will be neutralizing these emissions by supporting carbon reduction projects.
The band has a long history of reducing its environmental footprint and neutralizing tour carbon emissions from flights, buses, trucks, hotel stays and venue energy use going back to its first shows in 1991.
Dave Matthews Band established The Bama Works Fund in 1999 to support a wide range of efforts to build a more equitable, resilient and environmentally sound world. It has raised more than $65 million and awarded more than 2,500 grants.
While the fund primarily focuses on the band's home base of Charlottesville, Va., it has engaged in a number of national and international causes over the years, including natural disaster relief, voting rights projects and the Dakota Access Pipeline protests.
The Nature Conservancy is a global environmental organization headquartered in Arlington, Va. It works via affiliates or branches in 79 countries and territories, as well as across every state in the United States.
Dave Matthews Band has sold more than 25 million concert tickets since its inception as well as a combined 38 million CDs and DVDs. With the release of 2018's Come Tomorrow, the band became the first in history to have seven consecutive studio albums debut at number one on the Billboard 200.