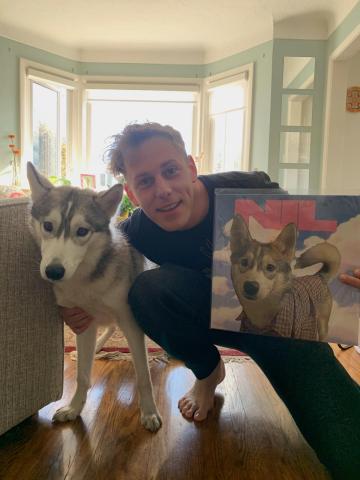 Canadian rock band The Dirty Nil have come up with a fun charitable idea that will make your pet as famous as an inflatable pig, at least in your own household.
The Juno Award-winning trio from Hamilton, Ontario, is selling custom LPs featuring your pet — dog, rabbit, cat, bird, snake, whatever — with $10 from each purchase going to Ladybird Animal Sanctuary, which is focused on rescuing cats, dogs and other small animals from high-volume shelters.
Founded in 2011 by animal welfare expert and musician Lisa Wynn,  singer-guitarist Melissa McClelland of the duo Whitehorse, and songwriter and graphic designer Janine Stoll, Ladybird has rescued over 1,200 animals, according to its web site. While they work towards having a physical property, all the rescued animals are fostered in private homes by volunteers.
"We chose Ladybird Animal Sanctuary because it's a local charity, we know some of the staff members personally and our belief in their work made it an easy decision," frontman Luke Bentham tells Samaritan "Ideally, we'd love to raise at least $5000. After raising $1500 for LadyBird in the first few hours, I'd say we are well on our way."
The 11-song 12-inch vinyl is for the band's latest album, Fuck Art. Each custom purchase comes with a Certificate of Authenticity Postcard with your pet's name. The finished product will be shipped in May.
This is an animals-only offer. "Pets Only please, no humans," it clearly states on the order page. Once the purchase has been made, instructions will be emailed on how to deliver your pet's photo.
In an effort to reduce single use plastics this record will be shipped in a reusable polybag without shrink-wrapping.
The band — Bentham, bassist Ross Miller and drummer Kyle Fisher — will soon be kicking off a virtual live tour,  from Palm Springs and Austin to Mars (complete with 3D glasses). Ticket info here.
Dates below:
April 15 - San Diego, CA
Presented by 91X and Music Box
12am ET/ 9pm PT/ 11pm CT
April 20 - Palm Springs, CA
Presented by Alt 101.5 and Shanghai Red's Bar & Grill
11pm ET/ 8pm PT/ 10pm CT
April 23 - St. Catharines, ON
Presented by 97.7 HTZ-FM and Warehouse Concert Hall
9pm ET/ 6pm PT/ 8pm CT
April 27 - Greenville, SC
Presented by X98.5 and Radio Room
8pm ET/ 5pm PT/ 7pm CT
April 29 - Houston, TX
Presented by 94.5 The Buzz and White Oak Music Hall 
10pm ET/ 7pm PT/ 9pm CT
May 4 - Austin, TX
Presented by 101X and Empire Control Room & Garage
9pm ET/ 6pm PT/ 8pm CT
May 7 - Colorado Springs, CO
Presented by KRXP 103.9 and The Black Sheep
11pm ET/ 8pm PT/ 9pm MT
May 13 - "Fuck Art" live from Mars (in 3D Nil-O-Vision)
9pm ET/ 6 PT/ 8 CT