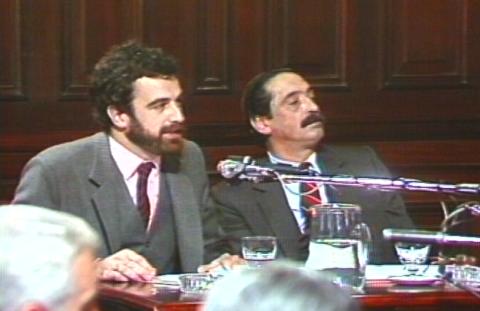 Raphael Lemkin coined the term "genocide" in 1944 and was the driving force behind the United Nations bringing into force the Convention on the Prevention and Punishment of the Crime of Genocide seven years later. But few people have heard of him and he was almost broke and largely ignored when he passed away in 1959.
The documentary Watchers of the Sky from director Edet Belzberg — whose 2001's film Children Underground was nominated for an Academy Award — sets out to pay tribute to Lemkin while also telling the stories of four other people who continue to dedicate their lives to protecting the world from mass atrocities and helping those who've survived them:
Benjamin Ferencz, the United States' chief prosecutor at the Nuremberg war crime trials who still lobbies at the United Nations at age 93; Luis Moreno-Ocampo, who prosecuted the military Junta trials in Argentina before becoming the first Chief Prosecutor of the International Criminal Court; Emmanuel Uwurukundo, a survivor of the Rwandan genocide who runs three refugee camps in eastern Chad for escapees from the Darfur massacres; and Samantha Power, a journalist, lecturer, U.S. permanent representative to the UN and the author of the 2003 Pulitzer Prize-winning book A Problem from Hell: American and the Age of Genocide, which was the inspiration for Watchers of the Sky.
The film will be screened in Toronto as part of the Hot Docs Canadian International Documentary Festival at: 7 p.m. on April 29 at Hart House Theatre; 12:30 p.m. on April 30 at TIFF Bell Lightbox; and 6:30 p.m. on May 3 at Isabel Bader Theatre.
The title comes from a phrase attributed to 16th century Danish astronomer Tycho Brahe. With regards to the film, it refers to an individual who recognizes the moral imperative of ending cycles of violence and works to improve the quality of life for forgotten populations.
The documentary chronicles cases of 20th and 21st century genocide and what was — and far too often what wasn't -— done to stop them. Lemkin's writings are sprinkled throughout the two-hour film, showing the insights and wisdom that should have made him a global human rights icon, while his tireless efforts adversely affected his health and income and contributed to his death at age 59.
Watchers of the Sky is thought-provoking, moving and sad, but also provides hope that meaningful change may be possible if others follow the examples set by the five people highlighted in the film. 
Air Jordan