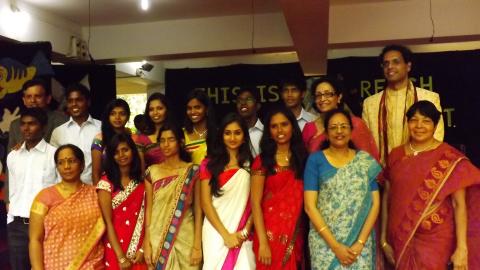 Anith Kumar works at Ernst & Young in Banglore, India, pouring over tax documents. The swanky offices are worlds away from the slum in northern Bangalore where Kumar was born. The child of Dalit parents — the bottom of the Hindu caste system that live in crushing poverty and still face widespread discrimination in India despite laws to protect them — Kumar is a shining example of the power of a school whose mission is to break their cycle of poverty.
The Shanti Bhavan school — formerly known as The Shanti Bhavan Children's Project — sits about an hour's drive from Bangalore, India's Silicon Valley. Started by Abraham George in 1997, the privately funded school takes kids from slums around Bangalore at age four or five, screens them, and enrolls them into their institution.
"Most Dalit families live on less than $1 a day, it's beyond extreme poverty," Abraham's son Ajit George, who works as Shanti Bhavan's director of operations, tells Samaritanmag.
"Many are often single parent families, some of whom sell off their daughters or just give them away to be married at age 12, sometimes younger. Many children are forced to work from a very young age and are the victims of abuse. My father wanted to help put an end to this cycle as best he could."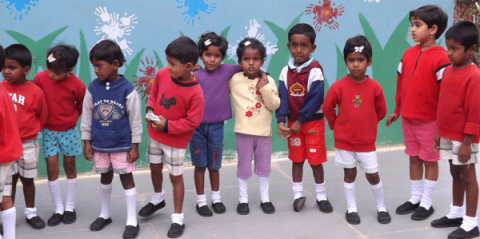 At Shanti Bhavan, the children are provided with an education, boarding, meals, clothing and medical care at no cost to their families until they graduate after their 12th grade college entrance exams. The school preps them for these vital exams and works to help ensure every student passes and proceeds to post secondary school — a feat that would have been near impossible without the care and resources provided by Shanti Bhavan.
Abraham George's premise is that if you provide India's most under privileged with access to the same technology and education that have enabled other Indians to thrive in globalization, they could too.
Kumar was five years old when a blue Jeep drove into his slum. Former school principal Lalita Law approached him and his family and said, "We have this idea, we're going to break the poverty cycle by taking kids to this school that we've started," Kumar tells Samaritanmag.
"And then from age five to 18, my school, living and health care, everything was taken care of. But the best thing that was given to us was the care and the love that each individual was given. Special attention and being cared for made each one of us special today."
Kumar was one of 14 students who were the first to graduate in 2010. One child per family gets admitted because they want to give as many families as possible a chance and the children generally go on to help the family and community out. All 14 were accepted into top colleges in Bangalore and all hold professional positions in major institutions: Goldman Sachs, Mercedes Benz, IGate, Ernst & Young and Hewlett Packard.
Those graduating students were featured in Madeline Grant's documentary, The Backward Class, which premiered at Toronto's documentary festival Hot Docs in May. The inspiring documentary took home the Audience Choice award. Along with Ajit George, Kumar and former classmate Vijay Kumar Veerapan boarded a plane and flew out of India for the first time to attend the screening.
"Kumar and Vijay will make more in one year than their parents would in a lifetime," George says after the Toronto screening. "At least 50 percent of that money will go back into the communities. These kids send money back to their families, they go back into the slums to teach the children there and some have said they would like to open more schools. The school changes more than just the life of one student but their entire community."
India's caste system was outlawed in 1950, but a stratified society still persists and with an ever growing population, the North American notion of rising above your lot in life is near impossible.
George speaks about the students as if they are his own kin — an affinity that helped the family weather tough times after the 2008 recession knocked them off their feet and left the family distraught about whether they could continue to fund the school, which relies mainly on their personal finances, as well as a few private donors.
"It was an extremely tough time for our family," says George. "But we also couldn't just abandon the kids and leave them to once again fend for themselves. My father had a mission to change their lives and we weren't willing to let that mission fail."
By reorganizing the family's finances, campaigning for private donors and cutting some costs at the school, the Georges were able to sustain the school, and, since its inception, have maintained a graduation rate of around 15 students each year, all in the top first division, and more than half get distinctions. All of the students proceed to college and are often recruited directly from college to work in major corporations in India.
"Where I am today would never have been possible without the school," says Kumar. "I was born into the lowest caste in Indian society, which means my life was basically set out for me to continue the life of poverty my parents lived. My people are oppressed and repressed; they can't even cross the street to access water that is for the so-called higher caste people. The higher caste live on one part of the street and the lower caste on another. For a kid to go through that, it's psychologically disturbing and what Shanti Bhavan does, it has taken us away from that community and has given us a proper environment to grow up in. Had it not been for Shanti Bhavan, my life would have been drastically different than it is today."
Air Jordan 1 Mid "What The Multi-Color" For Sale