Despite what George Lucas and his Star Wars franchise would have you believe, not all stormtroopers are evil.  At least their costumes aren't.
Case in point: On July 17, Jacob French launched his own Troopertrek 2011 to raise funds for Australia's Starlight Children's Foundation. His mission: to raise $50,000 (AUD) by walking from Perth to Sydney while wearing a stormtrooper's uniform.
"Over the course of the trek I will cross 4 states and cover approximately 5000km's in modified stormtrooper armour," he announced on his February 16th blog, www.everydayhero.com.au.
"The plan for now is to push a lightweight buggy with needed supplies an average distance of 35-40km for 5 days a week until the trek is complete."
As of yesterday (August 4), French had raised $15,671.10 AUD in online donations for his campaign.
But French, a.k.a. Stormtrooper "TK-6283," also acknowledged he was symbolically representing a much bigger organization: "The 501st Legion," also known as "Vader's Fist," a worldwide collective of volunteer Star Wars fans that attend charitable events, sci-fi conventions, visit children in hospitals and attend other social mixers dressed in costume (http://www.501st.com/index.php.)
"It was kind of accidental," 42-year-old Albin Johnson, who founded the movement in his native Columbia, South Carolina in 1997, tells Samaritanmag.com. "A friend of mine and I got involved in Star Wars when they were re-releasing the films back in '96/'97, and I had just suffered a debilitating car accident. It cost me my leg, and I had been a shut-in for a year.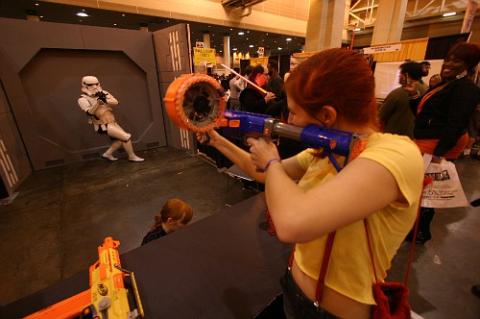 "I just wanted to do something to get back out, and the Star Wars thing had pretty much gone quiet for two decades, and we got so excited, we went to the fledgling Internet and found a place where we could get armour, went to the movie theatre, and the reception we got was so dramatic that we thought we'd create a website about two stormtroopers goofing off on the DeathStar.
"After a couple of months, we had a bunch of e-mails coming in from guys from around the world, who also had stormtrooper armour and wanted to be part of the team, as it were.
"So we just made up a fictional unit and said, 'We're those guys that Vader points to in the movies, and he says, 'Come with me.' We'll call ourselves the 501st, and before you knew it, it started getting really big. People really like being part of something that was part of the universe even before it was official."
In the 15 years since its formation, the 501st Legion — which labels itself as "The World's Definitive Imperial Costuming Organization" and carries the slogan of "Bringing Order To The Galaxy Since 1997" — has helped raise millions of dollars on behalf of hundreds of charities, including the American Cancer Society, the Cystic Fibrosis Foundation, Juvenile Diabetes Research, the Make-a-Wish Foundation, the March of Dimes, the Red Cross and The Salvation Army, just to name a handful.
"'Help' is the key word there," stresses Johnson of his organization's 6000-strong membership. "We've been involved in a lot of different events and charities to help raise that money, so we don't say we're directly responsible for it."
Johnson, a.k.a. "TK-210," says the charitable aspect of his association happened "spontaneously" at the turn of the century.
"I'd say as early as '99 or 2000, we got to the point where we realized our biggest calling was anything children-related and event-related. You just don't show up at a shopping mall and troop around, and expect it to be successful. So you're looking for something that's free; they appreciate you being around and you feel like you're there for a reason.
"So more and more people started visiting hospitals, around Christmas especially, and we'd ring the bell for the Salvation Army or do toy drives for Toys For Tots. The more we did it, the more we made it a top priority for our club."
Why Imperial Stormtroopers? Why not?
"I think Star Wars has become rather ubiquitous in pop culture lore of today," Johnson explains. "There's a lot of excitement and recognition that's attached to Star Wars, and the neat thing about the stormtrooper, unlike the other characters, is that it's simple, so you can get a lot of them in one room, in one place.
"The more you have, unlike other characters, the more exciting it gets. You don't have the same effect with 50 Darth Vaders, but when you have 50 stormtroopers together, it gets more exciting. And unlike Luke and Leia and Han, you don't have to look like a Hollywood movie star to pull it off. You put the helmet on, and you instantly look like that character.
"When the public sees the stormtrooper, they think, 'Oh, there's the cool space guy.' It's non-threatening. You don't have an eye-line to maintain contact with. You don't feel you're getting the stare down. It's a fun little mascot that a lot of people recognize."
Endorsed by Lucasfilm, the 501st Legion is also a lot of fun and costs nothing to join, says Johnson, whose members are located in more than 250 countries around the world and often own their stormtrooper armour at costs ranging from $500-$1000.
Membership is free and easy.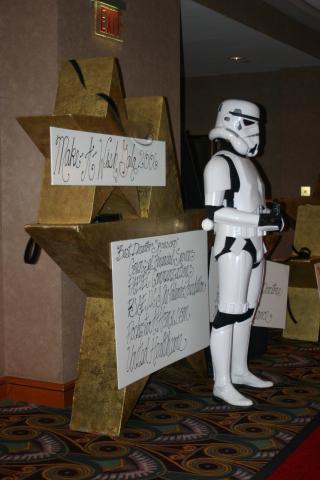 "If somebody wants to start a unit in a country, typically they establish that outpost — and there are no requirements other than having the person there," Johnson explains. "They just need to contact an officer on the site."
The 501st Legion's work isn't restricted to charity: often they attend conventions where they volunteer their services to visiting dignitaries – their way of saying "thanks," says Johnson.
"When celebrities come to sign autographs, we take care of them. We pick them up at the airport and we take them out to dinner and we make sure that they have people to talk to that aren't constantly going into fan mode. That's important for them, and they respect that, and they feel good that there's people paying tribute to them."
Members aren't reimbursed for these out of pocket expenses, but Johnson notes that it's not a sticking point.
"It's based on the love of Star Wars," he insists. "And when people roll into town, we're more than happy, just as fans, to take care of them. I can't say how many times I've taken Peter Mayhew (Chewbacca) and David Prowse (Darth Vader) out to the bars — and they drink!
"You know, we're not suckers here. We do want to give them a little bit back, because how many people can say a movie meant a lot to them, and they were able to take that person out to dinner and thank them. It's pretty satisfying."
"My involvement with The 501st Legion has been a fantastic experience and I have had plenty of opportunities to put on my suit of armour and entertain the public," wrote French in his blog.
May The Force be with him.
Air Jordan 1 Retro High OG 'Chicago' White and Black-Varsity Red For Sale