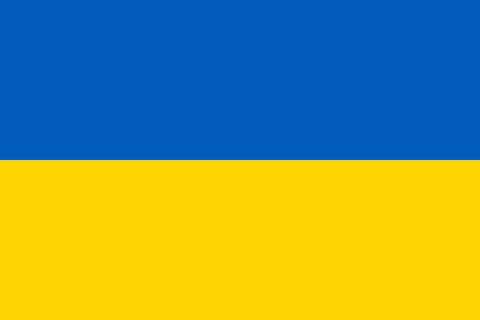 After annexing the Crimean peninsula and launching an ongoing eight-year war in eastern Ukraine in 2014, Russia launched an unprovoked full-scale invasion of the eastern European country on Feb. 24.
Before the recent escalation, some 2.9 million people were already affected by the conflict and humanitarian partners needed U.S.$190 million to help 1.8 million of the country's most vulnerable people, according to the United Nations (UN).
Hundreds of people have been killed or wounded already and at least 368,000 Ukrainians have fled the country since all-out war broke out, according to a Sunday tweet by UN Refugee Agency. Both of those numbers will increase in the days ahead.
Heartbreaking scenes of what's been happening have been viewed by millions on television and online, and people and organizations of all sorts and sizes have been moved to show support for the people of Ukraine.
The UN allocated U.S.$20 million from the Central Emergency Response Fund to immediately scale up life-saving humanitarian assistance and protection to civilians in Ukraine following the recent increase in hostilities.
Here are ways that you can make donations to help support Ukraine and its people.
The Ukraine Humanitarian Fund, established in February 2019, is one of the UN's country-based pooled funds. Contributions are collected into a single, unearmarked fund and managed locally under UN leadership. As crises evolve, funds are made directly and immediately available to a wide range of partner organizations at the front lines of response. This way, funding reaches the people most in need when they need it.
The Canadian Red Cross launched the Ukraine Humanitarian Crisis Appeal to respond to those affected by conflict in the country. Donations will enable the International Red Cross and Red Crescent Movement to respond to humanitarian needs as well as preparedness and response efforts. Support will address immediate and ongoing relief efforts, long-term recovery, resiliency and other humanitarian activities as needs arise, both in Ukraine and surrounding countries for those who are displaced.
The Canadian government will match every donation made by individual Canadians to the Canadian Red Cross until March 18, up to a maximum of $10 million. This funding is in addition to the $50 million for Ukrainian development and humanitarian aid that Canada recently announced.
GlobalGiving has launched its Ukraine Crisis Relief Fund to support humanitarian assistance in impacted communities in Ukraine and surrounding regions where refugees have fled. Donations will provide: shelter, food and clean water; health and psychosocial support; access to education and economic assistance; and more.
The Canada-Ukraine Foundation was established to coordinate, develop, organize and deliver assistance projects generated by Canadians and directed to Ukraine. It has joined with The Ukrainian Canadian Congress to establish a humanitarian relief committee to formalize a coordinated approach in providing assistance quickly and efficiently to those in need in Ukraine to address any further aggression by Russia. The committee will work with the Ukrainian Canadian community to reduce duplication of effort, increase efficiency and ensure aid efforts have the most effective impact for Ukrainian citizens affected by the crisis.
The Ontario government has contributed $300,000 to the cause, while Markdale, Ont.-based Chapman's Ice Cream has pledged $50,000. Donations can be made here.
Help Us Help is a federally registered Canadian charitable organization focused on humanitarian aid and educational projects in Ukraine and Canada. It's raising funds to help with the relocation of children, scholars and veteran families in Ukraine as well as humanitarian and medical assistance.
GlobalMedic is a registered Canadian charity that has worked with partner organizations in Ukraine for a number of years. Due to the current situation it has suspended humanitarian operations there and is focusing its efforts on supporting those exiting Ukraine into neighbouring countries and collecting funds to facilitate this operation. Donations to its Ukraine conflict response can be made here.
UNICEF has been working in Ukraine since 1997 and donations to its Ukraine Emergency Fund will support the organization's ongoing programs and response to the escalating need in the country by providing communities with safe water, urgent medical aid, healthcare services, child protection and education.
World Vision is on the ground in Ukraine working to meet the needs of vulnerable children and families who've been forcibly displaced by the escalating crisis and to provide safety, protection, psychosocial support and more in neighbouring countries. Donations can be made to its Ukraine Crisis Response.
Donations to Save the Children's Ukraine Crisis Appeal will go toward providing urgent humanitarian assistance as people flee the conflict.
Donations to CARE Canada's Ukraine Crisis Response Fund will assist CARE and its local partners on the ground to provide emergency supplies such as food, water, hygiene kits, psychosocial support and cash to cover daily needs. It's prioritizing the needs of women and girls, families and the elderly.
HelpAge Canada's Ukraine Crisis fund is providing humanitarian relief with food, medicine and hygiene supplies for older people in Ukraine who are often unable to flee conflict and are left alone without family or their wider community. They're often isolated, without loved ones and cut off from support, including access to medicine and food. They're particularly exposed when violence breaks out, as they may not be able to shelter from danger.
United Help Ukraine is a charitable organization receiving and distributing donations, food and medical supplies to Ukrainian internally displaced persons and other people of Ukraine affected by Russia's invasion.
Abundance International is a non-profit corporation that provides support for orphanages in eastern Europe, including Ukraine, which has thousands of orphans. Abundance International has provided supported with supplies, medicine and construction projects. Donations can be made here.
Voices of Children helps children affected by the war in eastern Ukraine by providing psychological and psychosocial support.
International Medical Corps has been operating in eastern Ukraine since 2014, delivering primary healthcare and mental health services to communities affected by the ongoing conflict. It's accepting donations here to deploy mobile medical teams to provide: emergency and primary health services; mental health and psychosocial support; and COVID-19 awareness and prevention services.
People In Need's SOS Ukraine fund will provide food packages, emergency shelter, safe access to drinking water, hygiene items and coal for heating to support the affected population in Ukraine and refugees fleeing to neighbouring countries.
Airlink has activated its Europe regional response plan and is accepting donations here as it connects with humanitarian, logistics, and airline partners in the region to assess main needs and response capabilities. Due to Ukraine's closed airspace, options will include destinations in neighbouring countries.
Project HOPE is shipping medicine and medical supplies to people most impacted by the crisis in Ukraine and accepting donations here.
Doctors of the World has provided humanitarian assistance and health services to vulnerable people in eastern Ukraine for almost eight years and has handled some 125,000 consultations. It intends to continue to serve the population as soon as the current situation stabilizes and its teams are able to work in the area again.
There are 200,000 Jews in Ukraine facing a humanitarian crisis and the American Jewish Joint Distribution Committee and the Jewish Agency are already on the ground providing critical and life-saving support. United Jewish Appeal Federation of Greater Toronto has started the Ukraine Emergency Relief Fund to invest in humanitarian relief, action to protect lives and increase security within the Ukrainian Jewish community and evacuate people from conflict zones.
Mennonite Central Committee Canada is accepting donations for its Ukraine Emergency Response, which it says will be focused on longer-term scale-up of existing programs that support vulnerable people and extending those services to internally displaced populations. It will likely include: psychosocial support and trauma healing; temporary emergency housing; emergency distributions of locally purchased supplies, such as blankets; and distribution of food packages.
Donations to Adventist Development and Relief Agency's Ukraine Crisis Fund will go towards providing immediate humanitarian relief, including shelter, food and clean drinking water as well as longer term support.
Canadian Jesuits International supports the work of Jesuit Refugee Service as it accompanies forcibly displaced people in Ukraine and those who seek refuge in neighbouring countries. Donations to its Ukraine humanitarian response can be made here.
European Missions Inc.'s Ukraine Emergency Appeal supports a Polish denomination of churches opening up their buildings and members' homes to take in refugees who've fled Ukraine. European Missions Inc. is part of the global Radstock Ministries network.
Funds for logistical and medical support for the armed forces of Ukraine can be directly donated to the bank account of the Ministry of Defense of Ukraine, Instructions on how to do this can be found here.
Friends of Ukraine Defense Forces Fund has been providing humanitarian aid and non-lethal assistance to Ukrainian soldiers, volunteers and families of those who've lost their lives since the conflicts began in the country in 2014.
A donation to the Ukrainian military can be made through the Come Back Alive charitable foundation here.
Instructions on donating to the Ukrainian army, within the framework of Army SOS citizens' initiatives, can be found here. Army SOS coordinates efforts to help soldiers by managing purchases of ammunition, shields, intercommunication and reconnaissance facilities, uniforms and food supplies, and delivering them directly.
Phoenix Wings provides the Ukrainian army with assistance regarding: equipment; uniforms; personal non-lethal protection (including vests and helmets); treatment of wounded soldiers; acquiring personal first aid kits; and repairing buildings used by the army. Information on making a donation can be found here.
Vostok SOS is a charitable organization with a mission to provide comprehensive assistance to conflict-affected and internally displaced persons while promoting democratic transformation and human rights values in Ukraine. Donations can be made here.