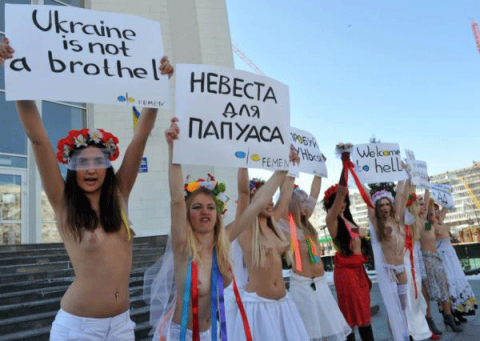 Pussy Riot has almost become a household name after the group's protests against Russian president Vladimir Putin and the leadership of the Russian Orthodox Church landed them in prison, and demonstrations and outrage in Ukraine over its leadership has led to a return of Cold War era international tension. But another female protest movement, with roots in Ukraine, has also made international headlines and is likely to become even better known through Australian director Kitty Green's documentary, Ukraine Is Not A Brothel.
The 80-minute film (view trailer here: contain nudity) looks at the founding members of FEMEN, attractive young  Ukrainian women who staged topless protests against patriarchal exploitation and the conception that the country is full of prostitutes. It has since branched out to hold demonstrations against dictatorships, religion and other issues, and has launched chapters in other countries. FEMEN is funded by charitable organizations, individual donors and branded merchandise sales.
Ukraine Is Not A Brothel will be screened in Toronto as part of the Hot Docs Canadian International Documentary Festival at: 9:30 p.m. on April 26 at TIFF Bell Lightbox; 1 p.m. on April 28 at Hart House Theatre; and 12:30 p.m. on April 29.
While the women of FEMEN talk about the importance of feminism in the first part of the film, we find out later on that it was the brainchild of Victor Sviatsky — the self-proclaimed "father of new feminism" who admits that he's a patriarchal figure and a swine who may have started FEMEN as a way to get girls.
It's obviously a paradoxical organization, but the women admit that they may not have been able to create the movement on their own. But their confidence, bravery and knowledge increases as they become more active and travel to spread their messages in other countries. Being roughed up and arrested by police on a regular basis, and briefly being kidnapped in Belarus, emboldens them.
Facing increasing estrangement from her family, a prison sentence and more intense political persecution in Ukraine, however, leads Inna Shevchenko to talk about recreating FEMEN in France without Sviatsky playing such a large leadership role. The documentary ends there, but she's since been granted political asylum in France and has followed through on her plan. Her sister Alexandra has done something similar in Germany and FEMEN has claimed to have members in Canada, Turkey, Belgium, the United States, Brazil, Switzerland, Italy, Bulgaria and Tunisia.
Ukraine Is Not A Brothel may leave the viewer with as many questions as answers, but developments since the completion of the film shows that the movement may have legs and the freedom to become a truly feminist-driven organization. The documentary, however, provides an interesting introduction for those of us who were only peripherally aware of FEMEN and some eye candy for those who may want to watch it for more voyeuristic purposes.
That last statement may be sexist, but one FEMEN member admits in the movie that there are good people who would like to be part of the collective and could probably make it better, but can't because they're not attractive enough. It's another FEMEN paradox.
Nike Air Mag Back To The Future Limited Edition Shoes Online Ptf84A, Price: $129.99 - Air Jordan Shoes