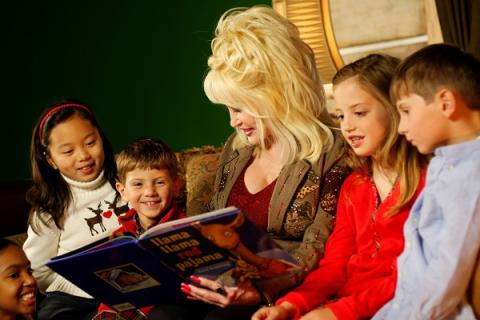 Dolly Parton has pitched in to support relief efforts for areas of the United States and its territories that have been affected by Hurricanes Irma and Maria this past September.
The country music star behind such hits as "Jolene" and "9 to 5" will be making an undisclosed financial donation to One America Appeal For Hurricane Relief. In addition, through a partnership between Dolly Parton's Imagination Library, First Book and Penguin Young Readers, the affected regions will also receive 500,000 books.
Advocacy for books and reading has always been one of Parton's major platforms. The Imagination Library, which she founded in 1995, has given out over 100 million free children's books in Australia, Belize, Canada, United Kingdom and the United States since its inception.
"I know in the immediate aftermath of a disaster books are not the first thing people need or miss," said Parton in a statement. "But I also know from our past experience that after some time has passed, families, schools and libraries are eager to replenish their shelves, and their hearts, with books. First Book asked us to join with them to get the right books in the right hands at the right time and we were pleased to do so."
The first wave of support will come in the form of 165,000 books being sent to educators in affected areas. The and the $90,750 USD cost for shipping and handling of said books will be covered by Parton's foundation.
First Book, Parton's partner in this book drive, has worked to create equal access to quality education since 1992 by providing low income families with books and educational resources. In recent years First Book has teamed up with book publishers to distribute five million books to children in post-natural disaster areas.
Parton is well aware of the horrible impact a natural disaster can have on a community. Last year the singer raised $9 million USD to support those affected by raging wildfires that swept through her home state of Tennessee.
Her contribution to One America Appeal For Hurricane Relief, an effort originally launched by all five living former American presidents, was made in part because she remembered the impact the wildfires had on Tennessee.
"After the tremendous outpouring of support my hometown received last winter after the wildfires raged through the area, I want to do my part to help other areas affected by natural disasters," said Parton. "I admire and respect this effort led by our presidents so it is an honour for me to contribute to their work."
Hurricane Irma, which was active in early September, had winds that reached 295 km/h at its peak and is believed responsible for at least 134 deaths. Irma impacted Barbuda, Saint Barthélemy, Saint Martin, Anguilla, and the Virgin Islands as well as damaging mainland Florida. It's believed to have caused $62.9 billion USD in damage to affected areas. Hurricane Maria, which struck in mid-to-late September, had winds that reached 280 km/h at its peak and is believed responsible for at least 93 deaths. The weather event caused tremendous damage in Puerto Rico, Dominica and the Virgin Islands in addition to affecting Florida and the Carolinas. It's believed to have caused $51.2 billion USD in damages.
Air Jordan 11 25th Anniversary Black Silver Eyelets CT8012-011 2020 Release Date