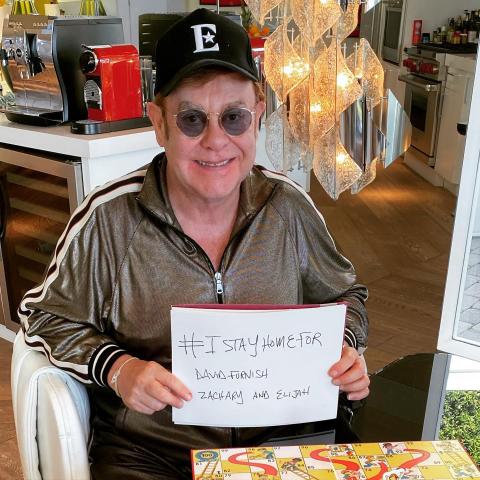 Top music stars will join host Elton John to help raise funds for Feeding America and First Responders Children's Foundation during the one-hour "iHeartRadio Living Room Concert for America" special being televised by FOX on March 29 at 9 p.m. ET.
Artists including Alicia Keys, Backstreet Boys, Billie Eilish, Green Day's Billie Joe Armstrong, Camila Cabello, Dave Grohl, H.E.R., Mariah Carey, Sam Smith and Tim McGraw will perform from their living rooms during the show. It will also feature appearances from the likes of singers Ciara, Demi Lovato and Lizzo, as well as Seattle Seahawks quarterback Russell Wilson.
The commercial-free show is aimed at paying tribute to, and supporting relief for, first responders and everyone else risking their lives in the fight against the spread of COVID-19 as well as the victims of its rippling effects.
Feeding America is the largest domestic hunger-relief organization in the United States, with a network of 200 food banks across the country. It feeds 40 million people at risk of hunger, including 12 million children and seven million seniors.
Feeding America has created the COVID-19 Response Fund to serve communities and individuals facing hunger, which has been worsened by the pandemic.
Every dollar raised from the fund will be used to get food and funds to local food banks across the U.S. FOX will match the first $100,000 donated.
First Responders Children's Foundation provides financial support to children who've lost a parent in the line of duty and families enduring significant financial hardships due to tragic circumstances. It also supports, promotes and facilitates educational activities and programs created and operated by law enforcement and firefighting organizations whose purpose is to benefit children or the community at large.
First Responders Children's Foundation has created the COVID-19 Emergency Response Fund, which is dedicated to helping the children of first responders and first responder families. The fund is supported through corporate partnerships and individual donations to the foundation's "#FirstRespondersStrong" fundraising campaign.
Contributions to the fund can be made by visiting www.1stRCF.org.
First responders who need assistance are encouraged to apply to the foundation for COVID-19 Emergency Response individual grants and agency grants.
"It's during challenging times like these that we see people from across the country step up and show our first responders that we are here to support them in the same way that they are here for us 365 days a year," said First Responders Children's Foundation president Jillian Crane in a media release.
To extend the reach of "iHeartRadio Living Room Concert for America" and its charitable aspect, FOX will offer the event across all of its linear and digital platforms. Fans can also listen on iHeartMedia radio stations and via the iHeartRadio app.
Asics Onitsuka Tiger