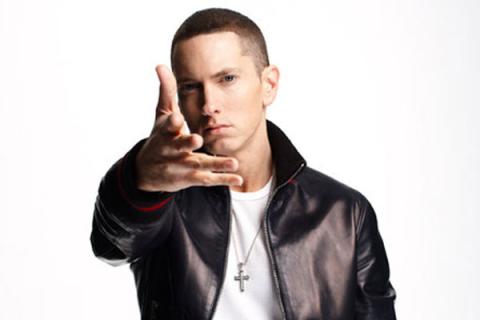 There may be a bit of good lurking deep down in Eminem's twisted, cursing soul. The high-profile rapper recently unleashed a new seven-plus minute rap called "Campaign Speech" on Shade 45's Sway In The Morning program. For all Eminem's crude bluster (there's an extended segment about how he's less monogamous than Robin Thicke and another about not practicing safe sex), he also spoke to numerous social justice issues throughout the freestyle.
On one verse he pairs references to Daniel Pantaleo, the New York Police Department officer who fatally choked Eric Garner and ignited numerous "I can't breathe" protests, with George Zimmerman, the man who shot and killed Florida teenager Trayvon Martin.
In another he has some unkind words for Dylann Roof, who's been charged with shooting nine African Americans at a Charleston, South Carolina church in 2015 with the intent of starting a race war.
Eminem saved his bluntest truthbombs for a verse about U.S. presidential candidate Donald Trump. In it, Eminem questioned why people consider him more dangerous than an irresponsible loose cannon like Trump.
Here's an excerpt:
Consider me a dangerous man
But you should be afraid of this dang candidate
You say Trump don't kiss ass like a puppet
'Cause he runs his campaign with his own cash for the fundin'
And that's what you wanted
A fuckin' loose cannon who's blunt with his hand on the button
Who doesn't have to answer to no one—great idea!
He's far from the only musician to call out Trump recently. Each day a high profile act will be releasing a new anti-Trump song at the website 30 Days 30 Songs. Some early contributors include Death Cab For Cutie, R.E.M., Franz Ferdinand and Aimee Mann.

Listen to Eminem's "Campaign Speech"
nike air presto 2017 womens shoes black Fresh Perspective DC7392-300 Release Date