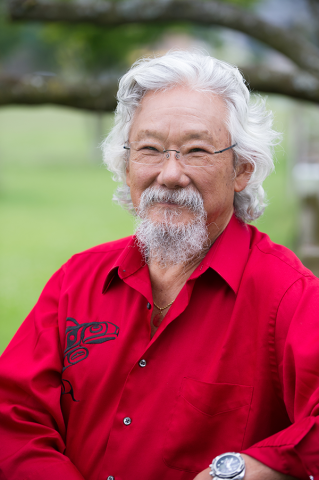 David Suzuki's status as a towering environmental advocate and exceptional broadcaster are assured. But just in case anything else is needed to cement his peerless reputation — apart from his Companion of the Order of Canada status and 29 honorary degrees from universities around the world, among countless other accolades — Suzuki is set for another milestone.
In addition to his permanent star on Canada's Walk of Fame in Toronto, announced last fall and to be set in cement at a later date, Suzuki will receive a star in his birthplace of Vancouver, the first time in the organization's two-decade history that a star will be located outside Ontario. Going forward, all inductees will receive a second star in their hometown, if, of course, it's not Toronto.
In an event slated for March 23 (coincidentally also during Juno Week), the 81-year-old Suzuki's star will be unveiled at the CBC Vancouver's broadcast centre at 700 Hamilton Street.
The choice of location is an obvious one. As noted in a press release about the event, the CBC broadcast centre is "inextricably tied to [Suzuki's] long and successful career as a scientific pioneer, educator and environmental advocate in Canada and around the world," as both a presenter on long-running TV show The Nature of Things (airing since 1979) as well as founder of also long–running and highly popular CBC radio science show Quirks and Quarks, airing since 1975 and today hosted by Bob McDonald.
In 1990, he set up the David Suzuki Foundation, headquareted in Vancouver with offices in Toronto and Montreal. "We are interconnected with nature, and with each other," it states on the "aboout" page of web site. "What we do to the planet and its living creatures, we do to ourselves. This is the fundamental truth guiding our work at the David Suzuki Foundation...Through evidence-based research, education and policy analysis, we work to conserve and protect the natural environment, and help create a sustainable Canada. We regularly collaborate with non-profit and community organizations, all levels of government, businesses and individuals."
In a prepared statement, Suzuki says, "I am humbled by this honour from Canada's Walk of Fame, and extremely grateful for the opportunities I've been given by the CBC and all its viewers. Thanks to that support, I've enjoyed a long, fascinating life as a scientist, broadcaster, author and co-founder of the David Suzuki Foundation."
Suzuki continues: "In this day and age, humanity faces monumental challenges – climate change, ocean acidification, transition to clean energy, the future of agriculture, genetic engineering, nanoengineering – the list goes on. And we need the world's best science to help us make key decisions in navigating these challenges. The best science, supported by excellent communication – that's what it's been all about."
Indeed. Suzuki's inaugural Vancouver-based Walk of Fame star also signals a commitment on behalf of Canada's Walk of Fame to "broaden its impact and build a more meaningful national platform," as the org fêtes its 20th anniversary.
"David's hometown star is the first of many more to come across the country, and we're thrilled to be able to share this honour with David in his hometown of Vancouver, where it all started," Jeffrey Latimer, CEO of Canada's Walk of Fame, says in a release.
Things roll at 1:30 pm on March 23. Those in Vancouver should stop by and tip the hat to the man who has done so much for the planet… and who will turn 82 (!) the very next day.
Nike